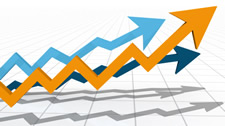 Gold prices have been on the rise, with the London Fix jumping 2.9 percent this month and sustaining an average of over $1,150 an ounce during the last week.
$1,150 per ounce is not only a psychological level for investors, but a threshold point the United States Mint watches.
Unless Wednesday's AM Fix drops below $1,127.25 an ounce, the Mint will raise the prices of all First Spouse Gold Coins by $25, matching the highest prices ever seen for the 1/2 ounce, 24 karat coins.
Although gold is slightly down today with a current spot of $1152.30 an ounce, such a substantial fall in less than 12 hours is not expected.
The following are the available figures the US Mint will use to arrive at a weekly gold average:
London Fix Gold

AM
PM
4/14/2010- Wednesday
?
N/A
4/13/2010 – Tuesday
1149.25
1148.25
4/12/2010 – Monday
1163.50
1158.75
4/9/2010 – Friday
1156.00
1152.50
4/8/2010 – Thursday
1146.50
1148.00
With the time difference, the London AM gold price is fixed before most Americans get out of bed in the morning. The new coin prices will be, according to the U.S. Mint pricing guide:
Uncirculated First Spouse Gold Coins — $716 to $741
Proof First Spouse Gold Coins — $729 to $754
The first lady coins were briefly at these higher price points between Nov. 24 to Dec. 16, 2009.
The Mint has made two price adjustments for gold coins in 2010. The first was a price increase on Feb. 24 and the other was a price cut on Jan. 27.
The $10 gold coins affected include the recently released 2010 Abigail Fillmore and the 2009-dated pieces featuring:
Margaret Taylor
Sarah Polk
Julia Tyler
Letitia Tyler
The Mint normally freezes ordering for the affected products and then implements the price increases. If the usual time frame is followed, prices will change right before noon ET on Wednesday with current ordering frozen sometime between mid-morning and the change over.
After gold coin prices are increased, the weekly gold average would have to move outside the $1,150.00 to $1,199.99 range for another adjustment.
To purchase these coins before the expected price increase, visit http://catalog.usmint.gov/.