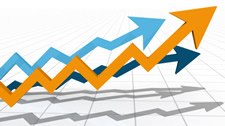 U.S. gold prices hit all-time record highs above $1,270 an ounce on Tuesday, surging over $24 to register the largest single day increase in four months.
Gold's gain continues an uptrend which started on Monday, and should solidify prices increases for United States Mint numismatic gold coin prices on Wednesday.
First Spouse Gold Coin prices will rise by $25 and the proof 2010 Buffalo Gold by $50, as long as Wednesday's AM London gold Fix stays above $1,240.74 an ounce and the PM Fix remains higher than $1,250 an ounce.
The U.S. Mint's numismatic coin pricing policy relies predominantly on the weekly average of precious metals prices between the prior Thursday AM London Fix to the current Wednesday AM London Fix.
The last price increases from the Mint occurred on August 18, 2010, when gold climbed above $1,200 an ounce and slid the Mint's coin pricing scale to between $1,200.00- $1,249.99 an ounce. The new range, should the aforementioned and expected price conditions exist on Wednesday, will be $1,250.00 to $1,299.99 an ounce.
Proof First Spouse Gold Coins will then rise from $779 to $804 while the uncirculated 4-karat gold pieces will go from $766 to $791. Proof Buffalo gold coins will increase from $1,510 to $1,560.
The Mint typically adjusts numismatic gold coin prices (when necessary) around 11:00 AM ET on Wednesdays, although prices have changed as late as Thursday morning.