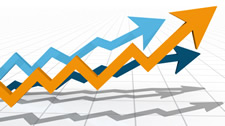 For the third straight week, the United States Mint is set to adjust its collector gold coin prices in response to London gold weekly price changes.
Expect UHR Gold Double Eagles and First Spouse Gold Coins to rise Wednesday, Oct. 7, around noon ET by $50 and $25, respectively. These coin prices were just lowered last Wednesday, Sept. 30.
Although there is still one day left in the Mint's gold coin calculation to consider, gold has shot healthily above the $1,000 an ounce trigger point during the last several days. The current four day average is at $1,010 an ounce. Prices would have to tumble below $960 an ounce by early Wednesday morning for no correction to occur. That seems most unlikely since spot gold is sitting at $1,038.30 an ounce (plus $21.10 on the day) as of this writing.
The following are the available figures the US Mint will use to arrive at an average:
London Fix Gold

AM
PM
10/7/2009 – Wednesday
?
?
10/6/2009 – Tuesday
1020.25
1038.75
10/5/2009 – Monday
1004.25
1005.50
10/2/2009 – Friday
998.00
1003.50
10/1/2009 – Thursday
1005.75
1004.75
The London PM price is fixed around 10 a.m. Eastern Time. The new coin prices will be, according to the US Mint pricing guide:
UHRs at $1,389.00
Uncirculated First Spouse Coins at $665.75, and
Proof First Spouse Coins at $679.00.
To purchase these coins before the expected price increase, visit http://catalog.usmint.gov/.
The London gold-fixing is a benchmark for gold traded directly between big institutions.
In other US Mint news on Tuesday, Gold Buffalo and Platinum Eagle are scheduled for release while collector 2009 Eagle Silver Coins are cancelled.