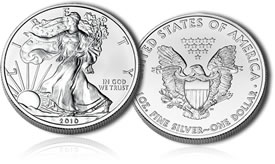 American Silver Eagle Bullion coins blasted off in January and have already topped the 6 million sales mark through to the first week of March, according to the latest figures from the United States Mint. That, despite a delayed January 19 release of the 2010-dated Silver Eagles and a week prior sell out of the 2009s.
The silver bullion coins had their best ever January with authorized buyers ordering 3,592,500 — a significant feat given the series began in 1986. Sales dipped in February by comparison, coming in at 2,050,000 for the month. But that was still enough to record a second best ever February — right behind February 2009.
Another 425,000 were sold during the first week of March, bringing the year-to-date tally to 6,067,500. Despite a recent trend that indicates a slower pace, the bullion eagles will at least record their second best starting quarter ever even if none are sold in the remaining 3 1/2 weeks of this month.
U.S. Mint Silver Eagle Coin Sales: January – March (1987 – 2010*)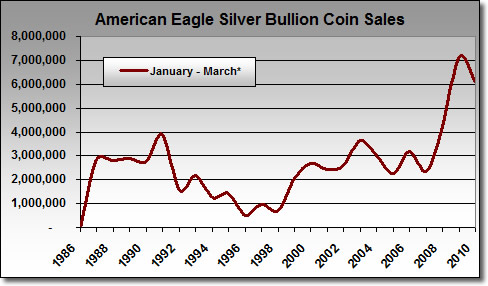 Sales though to March 5, 2010. Includes 367,500 2009-dated eagles that were sold in January.
Demand has been driven in large part by silver prices. Silver is up 1.5 percent in 2010, and has been on a roller-coaster ride for much of the year. The Silver London Fix came in at $17.25 an ounce on Friday. The metal has been as low as $15.14 and as high as $18.66, as the following silver graph from Kitco Metals Inc. highlights:
London Fix Silver Prices: January 1, 2010 to March 5, 2010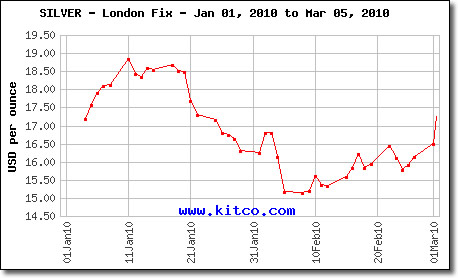 The Mint does not sell bullion eagles directly to the public, but instead to a small group of authorized purchasers who in turn resell them to precious metal providers, investors, dealers and collectors. These coins do not have a mint mark, unlike their numismatic counterparts.
For more information about this year's bullion coin, to include specifications and design details, visit the coin information page: 2010 Silver Eagle Coin.