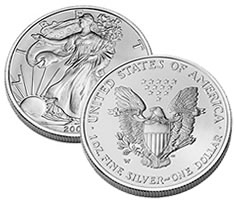 US Mint American Silver Eagle sales have already scored their best ever January. Who would have thought? After all, there is still a full week left in the month. On top of that, the bullion coins are rationed, they were unavailable for seven days, and U.S. silver futures tumbled 8.1 percent last week (6.7 percent in London).
Yet, January 2010 is now in the history books. It is the best starting month of a year for the series that dates back to 1986. Despite all the aforementioned obstacles, authorized buyers scooped up 3,090,500 Silver Eagles from the United States Mint as of Friday, Jan. 22.
January is a traditionally strong month for these always popular coins, with over one million in sales registered in all but two years since 1999. Making this year's three million plus start all the more impressive is the fact that even reaching the two million mark would have been historical. That happened only once before in Jan. 2008.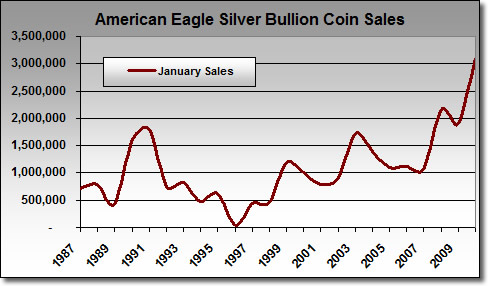 American Silver Eagle Bullion Coin Sales: January 1987 – January 22, 2010
Why the big run-up? In short, availability and pent-up demand. Normally the Mint begins striking newly dated eagles in December to have them ready for the market in January. However, with little or no inventory in reserve coupled with unprecedented demand, the Mint was in a predicament. It made a decision in November to keep striking 2009-dated eagles through to the end of the year, hoping to build up enough of a supply to carry over until replaced by the 2010s.
That supply ran short. The Mint told its authorized dealers on Dec. 22 that it would begin selling 2010-dated eagles on Jan. 19 in an allocated, or rationed process. As happenstance would have it, its 2009 inventory was completely depleted on Jan. 12 after selling 367,500 for the month. Buyers had to wait an entire week to place orders. And while silver prices moved narrowly during that time frame (before falling off a cliff a few days later), that week of unavailability created its own buzz — especially for those who desired to own or sell newly dated eagles.
Demand for the 2010s was immediately apparent. 2010 Silver Eagle sales exploded as buyers quickly grabbed 2,480,000 within the first 48 hours. In that short time, the Mint sold over 8.6 percent of the total it had in all of 2009 — which was a record-breaking year for the series. And despite silver prices diving between last Wednesday and Friday, or perhaps because buyers were getting in on a perceived dip, another 243,000 left US Mint doors.
The Mint does not sell bullion eagles directly to the public, but instead to a small group of authorized purchasers who in turn resell them to precious metal providers, investors, dealers and collectors. These coins do not have a mintmark, unlike their numismatic counterparts.
For more information about this year's bullion coin, to include specifications and design details, visit the coin information page: 2010 American Eagle Silver Bullion Coin.