American Silver Eagle bullion coins sprinted out US Mint doors in November 2010. Prior sales records were shattered left, right and center.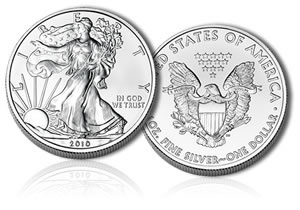 2010 Silver Eagle coin sales were higher for a second straight month, supported by physical demand driven by November silver prices which soared 15 percent and reached above $29 an ounce. But more impressive for the .999 fine silver pieces:
November was their best ever month
They broke the all-time mintage record
Their year-to-date sales became an annual record
For background on the last two records and when they first occurred in November, read the CoinNews.net article 2010 Silver Eagle Scores Three Records.
As for the final monthly milestone, US Mint dealers purchased 4.26 million Silver Eagles in November. That handily topped the previous 3.696 million record set in December 1986. It also easily eclipsed each of the months this year — several of which were among the best since the series launched.
US Mint 2010 Silver Eagle Bullion Coin Sales

Monthly
Sales
Monthly
Rank
January
3,592,500
3
February
2,050,000
10
March
3,381,000
4
April
2,507,500
8
May
3,636,500
2
June
3,001,000
6
July
2,981,000
7
August
2,451,000
9
September
1,880,000
11
October
3,150,000
5
November
4,260,000
1
YTD 2010 Total
32,890,500
November is historically one of the strongest times of the year for bullion coins, but last month's numbers made prior Novembers look tiny by comparison.
Silver Eagle Bullion Coin Sales: November 1986-2010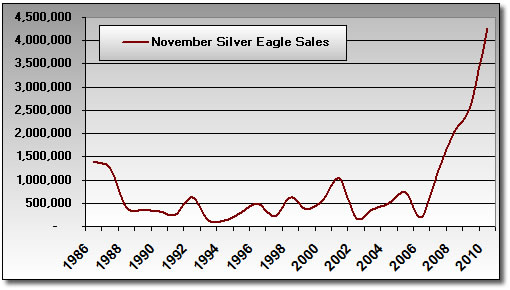 US Mint published figures reveal 32,890,500 of the bullion coins were ordered between January and November — a time during which silver prices soared nearly 68 percent. That is 4.124 million more than in all of 2009, which previously held the annual sales record.
Annual Silver Eagle Bullion Coin Sales: 1986 – November 2010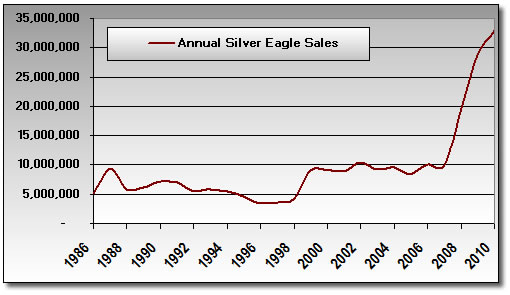 Since their debut in October 1986, the investment grade coins have had average sales of slightly more than 800,000 per month. However, this number has been significantly skewed in the last few years due to record level Silver Eagle demand. Pull out coin purchases in 2008, 2009 and 2010 and the monthly average falls toward 600,000.
2010 Silver Eagle bullion coin should not be confused with the 2010 Proof Silver Eagle which was released on November 19. US Mint bullion pieces do not have collector finishes or the West Point "W" mintmark. Additionally, the US Mint does not sell bullion coins directly to the public like it does with proof eagles or other collector coins. Instead, the US Mint uses a network of Authorized Purchasers who buy bullion eagles in quantity, and then resell them for a small premium over the current silver spot price.