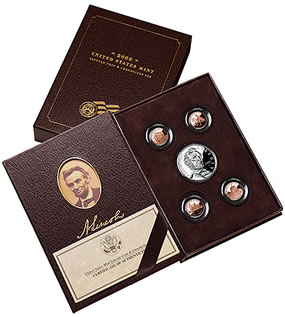 The United States Mint introduced the Lincoln Coin and Chronicles Set to its online store on Monday, in preparation for its launch on Oct. 15, 2009, at noon ET.
The much anticipated set includes proof versions of the four 2009 Lincoln Cents and a proof Lincoln Silver Dollar — the same commemorative dollar that sold out earlier this year under the pressure of enormous collector demand.
The Lincoln Coin and Chronicles Set is priced at $55.95, with just 50,000 available to buy. The price is a current steal considering single silver dollars are going for more on the secondary market. (See proof Lincolns Silver Dollars on eBay.)
The 50,000 limit is mandated given the act authorizing the silver dollars permitted a total of 500,000 across both proof and uncirculated options. Collectors already scooped up 325,000 of the proof and 125,000 of the uncirculated Lincoln dollars earlier in the year, forcing the US Mint to halt sales and list the individual coins as "sold out" just six weeks after their launch.
With such anticipation for this offering, the Mint has set an order limit of 1 per household. Even with that in place, many expect the set could sellout on the first day of issuance, leaving many collectors empty-handed.
Special features of the 2009 Lincoln Coin and Chronicles set include:
One 2009-P Abraham Lincoln Commemorative Proof Silver Dollar
Four 2009-S Lincoln Proof Cents
A reproduced Abraham Lincoln photograph
A reproduction of the Gettysburg Address in Lincoln's handwriting
A certificate of Authenticity
Encasement in a slip-covered leather-like tri-fold case
Additionally, the 2009 Lincoln cents are struck in 95 percent copper and 5 percent tin and zinc, the same bronze alloy used to strike the very first 1909 Lincoln penny. These four pennies are also available separately in the US Mint Lincoln One Cent Proof Set for $7.95.
The 2009 Lincoln Silver Dollars and cents celebrate the 200th anniversary of Lincoln's birth, his life and his legacy.

2009 Lincoln Cent images (non proof versions)
Lincoln led the Nation through the Civil War, issued the Emancipation Proclamation in 1863 that declared forever free those slaves within the Confederacy, and promoted the passage of the Thirteenth Amendment to the Constitution, which abolished slavery. It was passed several months after Lincoln was assassinated at Ford's Theatre in Washington by John Wilkes Booth.
When available, the set can be ordered directly from the United States Mint Web site at http://www.usmint.gov/, or directly here.
Orders may also be placed at the toll-free number 1-800- USA-MINT (872-6468). Hearing- and speech-impaired customers may order by calling 1-888-321-MINT (6468).
For an information site dedicated to the set, also see Lincoln Coin and Chronicles Set.