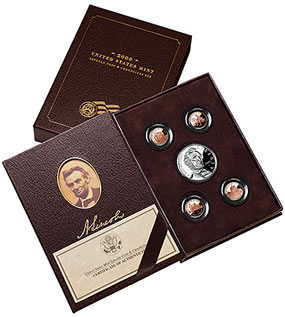 All indicators are that Thursday, October 15th, should be a very, very busy day on the US Mint's website as well as their telephone order line. At noon (Eastern Time) on that day, the Mint will be releasing the 2009 Lincoln Coin and Chronicles Set for sale to the public.
A few enterprising individuals are already offering the sets for pre-sale on eBay at huge premiums. A quick glance as of this writing shows several auctions in the $170 range, which is an increase of well over $100 from the $55.95 price tag the Mint will be getting.
Even more amazing is the fact that some auctions are over $300 with one listing asking $1000. (See Lincoln Coin & Chronicles Sets on eBay
.)
As of yet, closed auctions for the Chronicles Set have stayed between $140-$169, but — and this is pure guesswork at this point — this could change as Thursday comes and goes and collectors are unable to place an order through the Mint.
Only 50,000 of these highly sought after collections will be available and a one-day sellout is not out of the question according to multiple coin enthusiasts. In fact, the Mint has already stated a one-per-household maximum order limit will be enforced.
But what makes this set so desirable? Well, it does come in unique packaging and it will ship with some Lincoln related printed material. It also contain four Lincoln Cents — one of each of the new designs issued this year, but struck from a special alloy at the San Francisco Mint. This definitely increases everyone's interest. Still, you can get those same four cents in a separate proof set for only $7.95. What has the eye of most collectors on top of the trimmings is the Lincoln Proof Silver Dollar that will also be included.
The Lincoln Silver Dollars were available earlier this year but sold out in less than six weeks. 325,000 of the coins in proof condition and 125,000 in uncirculated left the Mint shelves in relative quick order. This translated to significant premiums on the secondary market. Even as of this writing, most of the Lincoln Proof Dollars on eBay are now selling for over $70. (See proof Lincolns Silver Dollars on eBay.) This is about twice as much as the $37.95 price the Mint got for them less than 8 months ago.
As stated before, only 50,000 of the Lincoln Coin and Chronicles Sets will be issued. This is because the act authorizing the Lincoln Bicentennial coins put a cap of 500,000 on the dollars. Take out the 325,000 proof and the 125,000 uncirculated coins already sold, and the Mint is only left with 50,000 to issue.
If you are lucky enough to get your hands on one of the Lincoln Chronicles Set, here is what you will receive:
One 2009-P Abraham Lincoln Commemorative Proof Silver Dollar (struck from 90% silver and 10% copper)
Four 2009-S Lincoln Proof Cents (struck from 95% copper and 5% tin and zinc, like the original 1909 Lincoln Cents)
A reproduced Abraham Lincoln photograph
A reproduction of the Gettysburg Address in Lincoln's handwriting
A certificate of Authenticity
Encased in a slip-covered leather-like case
When available, the set can be ordered from the United States Mint Web site at http://www.usmint.gov/, or directly here.
Orders may also be placed at the toll-free number 1-800- USA-MINT (872-6468). Hearing- and speech-impaired customers may order by calling 1-888-321-MINT (6468).