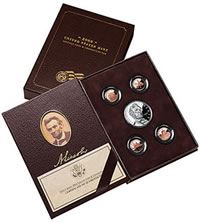 The Lincoln Coin and Chronicles Set was issued by the US Mint on Oct. 15 and 50,000 promptly sold out within 30 hours.
While many collectors on release day experienced anguishing moments due to ordering hiccups at the hands of the Mint, they are smiling more these days.
The Lincoln coins are desirable, the set packaging attractive, and Mint came through with rapid shipping.
Better, and this never hurts, the sets are commanding more than double their $55.95 issue price in the secondary market.
An analysis (see chart below) of over 1,000 eBay auctions from Oct. 14 through Nov. 2 indicate that the quantity of sets sold is increasing, yet their premiums are remaining strong. The continuing demand has been a boon for sellers.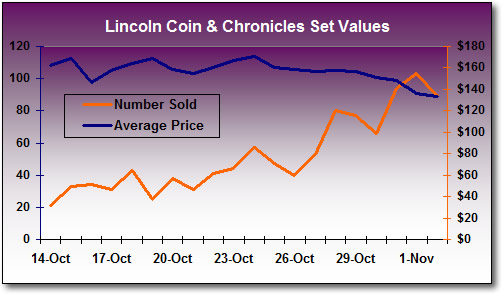 There does appear to be some good news for collectors looking to step into the market and make a purchase. While the selling prices have averaged just over $155 per during the last three weeks, they are beginning to settle. Prices are currently hovering around the $130 level.
$130 is hardly cheap when compared to the $55.95 Mint issue price (plus $4.95 for shipping and handling). Then again, it is better than the nearly two dozen collectors who paid between $319 and $500 for one.
Interestingly, more than 75 percent of Chronicles sets listed on eBay have sold. And of the more than 1,000 auctions we looked at, each listing averaged about five bids.
To check out current listings and bid prices, see Lincoln Coin & Chronicles Sets on eBay
.