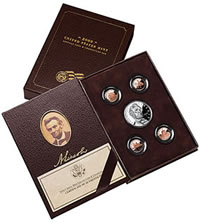 An objective of many coin collectors today will be to fight through the expected wait lines to acquire the US Mint's 2009 Lincoln Coin and Chronicles Set. It launches at noon Eastern Time for the price of $55.95. As the Mint announced in Sept., there is a one order limit per household in affect, with a total of 50,000 available worldwide.
The set offers the final opportunity to purchase an Abraham Lincoln Commemorative Proof Silver Dollar — the same dollar that sold out individually earlier in the year to the tune of 325,000 in under 6 weeks. As we discussed last week, there is excitement in the air for this set, with a few enterprising individuals already offering them for pre-sale on eBay at huge premiums. (See Lincoln Coin & Chronicles Sets on eBay
.)
In addition to the silver dollar, the special set also includes:
Four 2009-S Lincoln Proof Copper Cents
A reproduced Abraham Lincoln photograph
A reproduction of the Gettysburg Address in Lincoln's handwriting
A certificate of Authenticity
Encasement in a slip-covered leather-like tri-fold case
The four redesigned 2009 Lincoln cents are unlike the circulating varieties in that they are composed of 95 percent copper and 5 percent tin and zinc, the same alloy used to strike the very first 1909 Lincoln penny.
At noon ET, the 2009 Lincoln Coin and Chronicles Set may be ordered from the United States Mint Web site at http://www.usmint.gov/, or directly here.
Orders may also be placed at the toll-free number 1-800- USA-MINT (872-6468). Hearing- and speech-impaired customers may order by calling 1-888-321-MINT (6468).
Good luck.