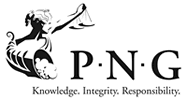 (Fallbrook, California) — The Professional Numismatists Guild (PNG) has agreed to continue working with the International Association of Professional Numismatists (IAPN) to oppose irrational bans on the importation of coins into the United States. PNG will provide $12,000 toward the work.
"The PNG Board of Directors unanimously agreed to contribute the funds to assist IAPN in its lobbying efforts to combat unfair import restrictions. We are concerned that overzealous Customs Bureau agents may unfairly misconstrue even well-meaning regulations by mistakenly claiming that any undocumented ancient coin is a stolen cultural property artifact of another country," said PNG Executive Director Robert Brueggeman.
"This is a frustrating and ironic situation," said PNG President Paul Montgomery. "The U.S. already has agreements with Cyprus and China that hinder the importation of coins that may have widely circulated centuries ago and, in fact, are now easily available for purchase by the public in those countries. Yet, Customs officials are seemingly doing nothing to stop the egregious importation into the U.S. of counterfeit coins from China and elsewhere."
PNG and IAPN officials are concerned about efforts by the Archaeological Institute of America to train Customs inspectors to detect and seize coins suspected of being imported in violation of the Convention on Cultural Property Implementation Act.
"The use of trainers from the archaeological community with 'an axe to grind' against professional numismatists and collectors carries with it the danger that unfair enforcement will actually result," said attorney Peter K. Tompa of the Washington, D.C. law firm of Bailey & Ehrenberg PLLC. He has lobbied on behalf of numismatic organizations for fair and reasonable regulations on cultural artifacts.
"Historical coins have been traded for at least 500 years as collectibles and traditionally have no provenance track record, other than relatively recent sales receipts. It is unreasonable to assume that a coin is 'stolen' or illegally imported merely because the holder can not establish a chain of custody beyond receipt from a reputable source."
Founded in 1951, the IAPN is a non-profit organization of leading international numismatic firms. The objectives of the association are the development of a healthy and prosperous numismatic trade conducted according to the highest standards of business ethics and commercial practice. For additional information, visit online at www.IAPN-coins.org.
The Professional Numismatists Guild was founded in 1953 and is composed of the top rare coin and paper money dealers in the United States and seven other countries. PNG member-dealers must adhere to a strict code of ethics in the buying and selling of numismatic merchandise. Additional information is available online at www.PNGdealers.com.
# # #