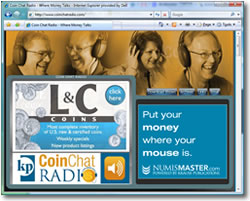 Coin Chat Radio leads of the August 6, 2009 episode with host Bob Van Ryzin's What's In The News. The first topic of discussion recounts the strong demand for American Samoa quarters in US Mint bags and rolls. (See quarter sales figures)
Listeners are also briefed on Odyssey Marine Exploration's objection filing to a Florida court recommendation that Spain should get a shipwreck treasure — 17 tons of Colonial-era gold and silver coins that Odyssey discovered in March of 2007.
Odyssey contends that even if the ship is (which they do not confirm) the Spanish warship Mercedes, it was engaging in commercial activity at the time of its sinking, and therefore Spain's claim to sovereign immunity is invalid.
Next up in the program, Karen Knapstein, Associate Editor of Krause Publication's Antique Trader, interviews Rick Harrison who has a new History Channel series called Pawn Stars. (See http://www.history.com/content/pawn-stars.)
"I've always found out that the easiest way is to just to explain the entire process to them," Harrison states when asked how he tells customers the reason he can't pay retail prices for their pieces.

"Just explain to them [that] what they saw in the book was most likely… they always go all the way to the right hand side column, you know, when its in perfect condition… I explain to them, it's rarely that one.
Knapstein delves deeper in the the pawn shop business and asks how Harrison spots stolen merchandise:
You just gotta ask them questions. You know, if it just doesn't sound right, I just don't take it. It's the worse thing for business.
Online Editor Lisa Bellavin has a short piece for beginners on how to care for and store coin collections.
Learning good storage habits should be one of the first things to do, right along with acquiring those first coins. The common impulse is to use whatever is available around your home, but never allow that impulse to control your collecting. There are specific products that have been designed, tested and been found safe to use for coins.
Bellavin continues to discuss storage options, and the positives and negatives of each. She also informs listeners of the hazards of trying to clean coins, and the only times it should be attempted as well as some tips on doing the cleaning.
David Brierley closes out this weeks episode of Coin Chat Radio with 'Freshly Minted'. New coins discussed include the Royal Australian Mint's Aurora Australis $5 Silver Proof coin and the Pobjoy Mint's FIFA 2010 World Cup Commemorative coin.
Listen to Coin Chat Radio by going to their website, where previous episodes may also be found. You may also listen to them at sites like Coin Collecting News which host the free Coin Chat Radio player.