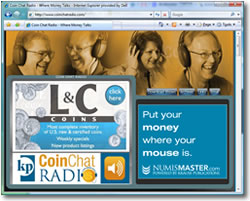 The Lincoln Coin & Chronicles Set from the US Mint is discussed first on "What's In The News", a segment of this week's Coin Chat Radio. The host, Bob Van Ryzin, informs listeners of the make-up of the set, as well as its limited mintage. In a CoinNews follow-up, the set sold out Friday and collectors must now go on a waiting list.
The National Money Show in Forth Worth is the next topic, with a day being added to the event bringing the total to four. It will run from March 25-28, 2010 and is sponsored by the American Numismatic Association.
Nick Brown of Majestic Rarities recently purchased an error gold 1906 Indian cent for $276,000 at the Stack's Americana Auction in Philadelphia and Numismatic News Editor Dave Harper spends a few minutes with the buyer trying to figure out why.
"Error coins in general have just skyrocketed in price," said Brown. "And error coins have really, I don't want to say taken the market by storm, but error coins have gained significant popularity. There's more and more people collecting them. Just at the Bourse Floor at the Philadelphia Show, I would say at least 50 dealers, or more, had error coins in their case, which is almost unprecedented."
Brown says he plans on holding the rare error coin which is an Indian head cent design probably incorrectly struck on a $2.50 gold planchet. Brown's company, Majestic Rarities, has yet to really offer any error coins for sale to its customers, but that will probably change shortly.
"I think their appeal is multi-fold," Brown continues in trying to explain the increasing interest in error coins. "When you're looking at a regular minted US coin ….you're looking at the exact same obverse and reverse, you just have to get out a loop and say 'Is there a D or and S, or is there nothing there.'

But when you are looking at an error coin, it could be off-centered, you'd say 'How could this have happened?' or you could look at a Mercury Dime struck on another type of planchet! The appeal is the beauty and uniqueness of the coin."
"Twisted Tales" is the next segment on Coin Chat Radio in which Editorial Director Debbie Bradley recounts some of the many stories of the 1844 dimes, nicknamed 'Orphan Annie'. Following this segment is World Coin News Editor with details on the upcoming PAN (Pennsylvania Association of Numismatists) show slated for October 23-25.
Closing out the program is Online Editor Lisa Bellavin with news of the nine year old girl who designed the 2010 50p coin for the Royal Mint depicting the Olympic High Jump. Several other new coins are also discussed in the "Freshly Minted" segment.
To hear this week's episode of Coin Chat Radio, you can visit their website at www.coinchatradio.com, or you can also find the free Coin Chat Radio player on sites like Coin Collecting News.