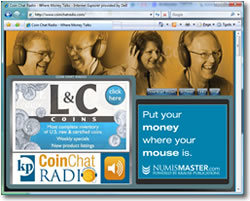 The Dec. 10, 2009 episode of Coin Chat Radio begins with Bob Van Ryzin and "What's In The News."
Ryzin's topic of the day is the release of the 2009 American Eagle One Ounce Platinum Proof Coin. The Eagle is struck at the Mint's facility at West Point and was limited to a mintage of only 8,000, which were sold out just on Thursday.
The obverse on this year's Platinum features the first of six annual designs dedicated to the six principles of the Preamble of the United States Constitution.
Next up, writer Ginger Rapsus is interviewed by Numismatic News Editor Dave Harper about collecting clad coins. Rapsus has become known as an expert in the field since she wrote the book "The United States Clad Coinage" in the early 1990's.
"I figured somebody should write something about clad coins," responds Rapsus when asked by Harper why she became interested in the topic.

"There was nothing in print, there was just nothing to go on. And I wondered 'Why was this so?' because these coins are just as much a part of United States coinage as anything… the big glamorous silver dollars or the twenty dollar gold pieces. Clad coins are just as important as anything else because they're real money."

"Clad coins were made to alleviate the coin shortage, there was a silver shortage, there was a great deal going on at that time. And I thought 'How come this great piece of American history of coinage was so neglected."
The collectibility of clad coins in general is discussed by the two along with specific examples. Rapsus invites listeners to try and find some choice specimens of many clad coins without breaking open a Mint set. She states that it is almost impossible to find an older nice condition clad in circulation.
"I think they should do it the old-fashioned way," states Rapsus when Harper asks for her advice to collectors who might be interested in clad coin collecting. "Start checking their change, just like they did when they were a kid, or the way people did back in the day. Maybe get one of those old blue Whitman folders and just try building a set out of circulation, and see how much fun it could be!"
Closing out Coin Chat Radio is Online Editor Lisa Bellavin with "Freshly Minted." Bellavin discusses new issues like a Christmas Gold Coin from the Andorra Mint and the Pobjoy Mint's Centenary of Naval Aviation in the U.K. coin. Also mentioned is a square shaped coin celebrating the properties of water from the Bank of Latvia. (See Square 1-Lat Depicts Water.)
To hear this episode of Coin Chat Radio, go to Web site at www.CoinChatRadio.com. Previous episodes may also be found there.
For articles relating to the topics discussed above, also read: