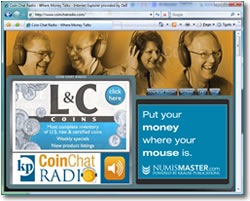 This week's Coin Chat Radio has Numismatic News Editor Dave Harper's interviewing the newly elected president of the American Numismatic Association, Cliff Mishler, an ANA member since 1956.
Mishler described a cautious outlook towards future plans after he takes office the first week in August. He would like to see new programs carefully considered before they are introduced in order to provide the support needed.
One upcoming change is that admission will begin to be charged at ANA conventions, starting with the World's Fair of Monery in LA. A benefit to ANA members is that their admission to the conventions will be free.
Mishler began collecting coins in 1950 and wanted to join the ANA in order to save $1 on his Numismatist magazine subscription, but had to wait until he was 18.
"Today a newborn can be enrolled as a life member. Which is quite a remarkable contrast from what it was in 1956!" Mishler exclaimed.
When asked about the future of the ANA and what will motivate today's collectors, Mishler responds, in part,
"One of my desires is certainly to see the ANA kind of become more of a gelling force, if you will, between collectors, dealers, specialized organizations, governmental units, hobby clubs, you know, to make us all work more as a unit. The bread & butter of the hobby are things like shows, and mail order, and you know, club meetings… "
Debbie Bradley relates an interesting tale about George Washington and our nation's first coinage. A legend in US coin history is that George Washington's silverware was used to mint the first coins, the 1792 half dismes, which were minted before the US Mint even had a building.
The story has been related over time from various sources, including Sylvester Sage Crosbie's 1875 book, The Early Coins of America and Frank H. Stewart's History of the United States Mint and its Operations. Even today, they are known as Washington half dimes.
Primary confirmation today comes from a McClintock memo, describing them as struck at the request of George Washington. For this notorious tale and more, listen to the latest program, via the link: Coin Chat Radio. Current and prior week episodes are also available directly from sites hosting the free Coin Chat Radio player, like the one found on the home page of Coin Collecting News.