(Irvine, California) — A wide selection of rare ancient and world coins will be offered in Bowers and Merena's Official Auction of the American Numismatic Association World's Fair of Money® at the Los Angeles Convention Center and online, August 2-8, 2009. Ponterio & Associates, Inc., a division of Bowers and Merena, will present the world sessions on Saturday, August 8.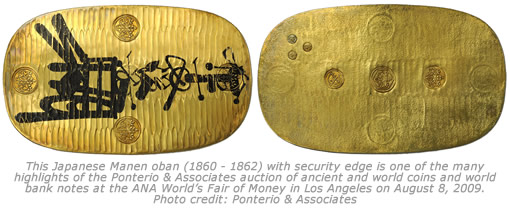 One of the many highlights among the over 1,300 lots of desirable and appealing world coins is a Japanese undated (1860-1862) Manen oban (10 Ryo, 112.26 gms) with security edge (Fr. 7; JNDA-09-11; C24a2) in Extremely Fine condition.
"This is a beautiful specimen," said Richard Ponterio, executive vice president of Bowers and Merena.

"This Manen oban is the only type that was produced using machinery. Prior to this type obans were hand made. The use of obans halted shortly after the time of Commandore Perry forcing Japan to open its trade with the west in the mid 1800s." (www.BowersandMerena.com).
Two other marquee coins in the ANA auction are a rare Year 3 (1911) "Long Whisker Dragon" Tientsin Mint China Pattern Dollar (L&M-28; Kann-223; KM-Pn-304), graded NGC AU-58, and a Macedonia Mende silver Tetradrachm (16.88 gms) ca. 425 B.C.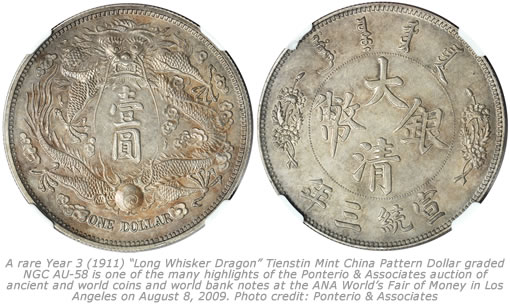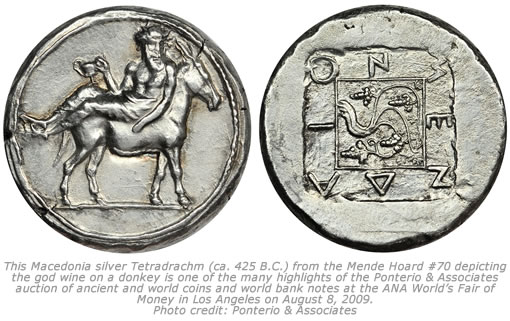 "This was struck from the same dies as described in the Noe-ANS Monogram #27 of 1926, "The Mende (Kaliandra) Hoard #70.

It has a well struck reverse and nice metal quality with full border on the obverse. It depicts Dionysos 'Bacchus' the god of wine and grapes holding a cup of wine while reclining on a donkey," explained Ponterio.
Among the many other highlights of the auction are:
Bruttium Caulonia silver Stater ca. 525-480 B.C.
Chile 8 Reales 1849-ML (KM-96.2; EL-103)
China Pattern Dollar Year 12 (1923) Tientsin Mint, Large Character, NGC MS-65;
China Pattern Dollar 1910 Tientsin Mint, NGC MS-65;
China Pattern Dollar 1907 Tientsin Mint, NGC MS-62;
Great Britain undated (1605 -1606) Rose Ryal, James I (1603-1625), NGC AU-55;
Great Britain 5 Guineas 1741, George II (1727-1760), NGC AU-58;
Honduras 10 Pesos 1883
Iran 10 Tomans AH1297 (1880) Tehran Mint, Nasir Al-din Shah AH 1264-1313 (1848-1896)
Italy 50 Lire 1911-R "50th Anniversary of the Kingdom," NGC MS-63;
Italy 50 Lire 1912-R, NGC MS-62;
Kingdom of Lydia, Kroisos (561-546 B.C.) gold Stater, NGC CH AU;
Korea 1 Whan Year 502 (1893)
Mexico Empire of Iturbide 8 Escudos 1822-JIM, NGC AU-55;
Mexico Carlos & Johanna, Early Series 4 Reales, Assayer R undated (1538), Francisco del Rincon
Roman Empire, Tiberius (12 -37 A.D.) gold Aureus, NGC MS;
Russia, 5 Roubles 1762 St. Petersburg Mint, Catherine II (1762-1796), PCGS MS-62;
The auction also will include U.S. coins and U.S. and world bank notes.
Bidding opens in July and pre-auction bids are welcome at www.BowersandMerena.com; by e-mail at auction@BowersandMerena.com; by phone at (800) 458-4646 in the U.S. and 1-949-253-0916 outside the U.S.; by fax at 1-949-253-4091; and by postal mail addressed to Bowers and Merena, Los Angeles ANA 2009, 18061 Fitch, Irvine, CA 92614.
Interested bidders are also encouraged to view lots and bid in-person at the live auction in Los Angeles in August, or live online through the Bowers and Merena web site where a complete auction and lot viewing schedule is available.
About Bowers and Merena Auctions
Bowers and Merena Auctions was founded in 1983 and has grown to become the world's preeminent numismatic auctioneer with more than half a billion dollars in rare coin and currency sales. They have been awarded the prestigious honor of Official Auctioneer for the 2009 American Numismatic Association Conventions in Portland and Los Angeles, in addition to their continued service as Official Auctioneer of the Baltimore Coin and Currency Conventions three times every year.
About Ponterio & Associates, Inc.
Ponterio & Associates, Inc. was founded in 1982 by renowned specialist in world and ancient numismatics, Richard Ponterio. The company was acquired by Bowers and Merena Auctions in 2008, creating an auction powerhouse that covers the collecting interests of U.S. and international coin and currency enthusiasts. Annual Ponterio auctions include the Official Auction of the Chicago International Coin Fair and the New York International Numismatic Convention.
The ANA World's Fair of Money, August 5-9 in the Los Angeles Convention Center Hall A, features more than 1,000 dealers, a Museum Showcase with a special exhibit of national treasures from the Smithsonian Institution, mints from around the world and a variety of educational programs and family activities. For more information, visit www.WorldsFairofMoney.com.
# # #