To mark its centenary, the Pro Patria foundation is receiving a special gift from the Swiss Confederation: the official 2009 gold coin. The commemorative coin was designed by the artist Hans Erni.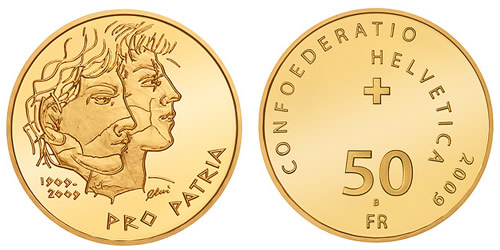 Like Pro Patria, Erni celebrates his 100th birthday in 2009. The subject he has chosen for the gold coin is a couple "facing the future with confidence," as Hans Erni describes it. It is intended to symbolise trust in a peaceful future.
The Swiss Mint provides the following background and information: In 1909, a small group of patriotic and charitably minded personalities led by the St. Gallen businessman Albert Schuster initiated the "Swiss National Day Donation". Its guiding idea was to mark the Swiss National Day with a collective act by the population.
An annual collection was intended to increase solidarity in the country. The noble aim of the initiators was supported by the Federal Council from the very beginning.
With the aid of the Post Office, a valuable fund-raising instrument was introduced in 1910, namely the National Day postcards and, from 1938, the National Day stamps (known as Pro Patria stamps since 1952). The charitable surcharge (carriage surcharge) on these specially created miniature works of art was earmarked for social and cultural works.
In 1923, the 1 August emblem was created as a further fund-raising medium. In 1991, the association became a public foundation with the name "Pro Patria Schweizerische Bundesfeierspende" (Pro Patria Swiss National Day Donation). A network of volunteers carries out the collections.
The money collected was used mainly to benefit needy groups within the population until well into the post-war years. With the steady growth of public and private social institutions, the focus shifted in the direction of culture. Today, Pro Patria mainly supports the rescue, preservation and upkeep of historic buildings and cultural landscapes. The main focus for the years from 2007 to 2009 is the national "Cultural Routes of Switzerland" project.
Commemorative Pro Patria coin specifications and price
Coin specifications include:
| | |
| --- | --- |
| Date of issue: | June 2009 |
| Design | Hans Erni, Lucerne |
| Coin image | 100th anniversary of Pro Patria |
| Legal face value | 50 Swiss francs |
| Alloy | Gold 0.900 |
| Weight | 11.29 g |
| Diameter | 25 mm |
| Mintage | 6,000 |
The coin is priced at CHF 470.00 and may be ordered directly from the Federal Mint Swissmint.
About Federal Mint Swissmint
The Federal Mint is an independent unit of the Federal Finance Administration. Its origins go back to 1848, when with the founding of the federal state, the prerogative of coinage passed from the Cantons to the Confederation.
Swissmint's most important responsibility is to strike Swiss coins for circulation. For the numismatic market, Swissmint also regularly issues coins of special quality, both for circulation and as special qualities.