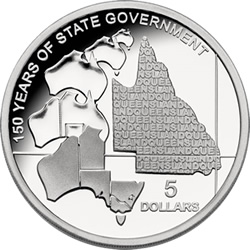 With a triumphant win in the State of Origin on Wednesday night and having Queensland Day on this Saturday, Queenslanders definitely have a few reasons to celebrate.
To help those from up north celebrate being a Queenslander the Royal Australian Mint has released a stunning new coin which especially honours the 150th anniversary of self-government for Queensland.
On 6 June 1859 Queen Victoria signed Letters Patent separating Queensland from the colony of New South Wales. This date is now celebrated as Queensland Day.
"As Queenslanders prepare to celebrate 150 years of independence from New South Wales, it is a fitting time to release one of our newest collectible coins. The state of Queensland is home to some of the most stunning landscapes and natural wonders our country has to offer and we are proud to mark this significant milestone," said Graham Smith, Acting Chief Executive Officer of the Royal Australian Mint.

"These coins are our best quality. They are over one troy ounce of silver and come presented in a special case with an official certificate of authenticity and declaration of rarity. It is a great collectible for those wanting to have something special to remember this important milestone in Queensland's history," said Mr Smith.

"Coins from the Royal Australian Mint, and the themes they acknowledge, are always great mementoes of our rich and proud heritage and culture. This is the sixth coin to be released in our State Series and celebrates an important day for the state of Queensland and in the history of Australia."
The coin designs are striking and modern and feature several maps of Australia that illustrate how the State and Territory boundaries have evolved over time.
Over the past three years coins commemorating 150 years of state government have already been issued for South Australia, Victoria, Tasmania, New South Wales and Northern Territory. Collectors wanting to secure a full set of these historical coins are advised to visit coin dealers or Australia post outlets in their area or contact the Mint directly by calling 1300 652 020 or visiting www.ramint.gov.au.
# # #
About the Royal Australian Mint
His Royal Highness, The Duke of Edinburgh, officially opened the Royal Australian Mint, Canberra, on Monday 22nd February 1965. The Mint was commissioned to produce Australia's decimal coinage, which was to be introduced into circulation on 14th February 1966. The Royal Australian Mint holds a place in history as the first mint in Australia not to be a branch of the Royal Mint, London.
Since opening in 1965 the Mint has produced over eleven billion circulating coins and has the capacity to produce over two million coins per day, or over six hundred million coins per year.
The Royal Australian Mint has struck coins for a number of South Pacific nations. Export coins were first struck in 1969 for New Zealand and, since then, coins have been produced for Papua New Guinea, Tonga, Western Samoa, Cook Islands, Fiji, Malaysia, Thailand, Nepal, Bangladesh, Israel and Tokelau.