Even as the first silver dollars emerged from the sparkling new Coin Press No. 1 at the U.S. Branch Mint in Carson City on Feb. 4, 1870, there were voices in Washington, D.C., still questioning if there should be a Mint at all in Nevada's capital.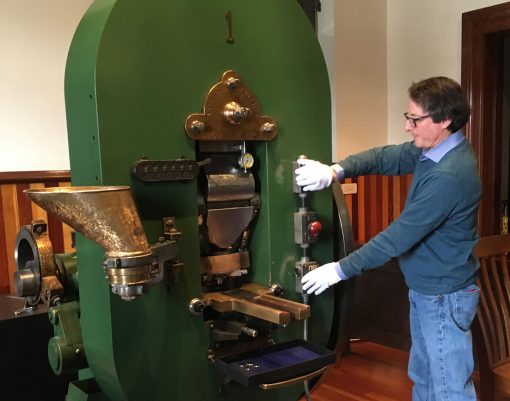 The Carson Daily Appeal of Feb. 6, 1870 alluded to it in a small article announcing that the Mint's first silver dollars were out, calling their existence
"a living refutation of the old, carping predictions that there never would be any money issued from the Carson Mint."
In fact, between 1870 and 1893, the Carson City Mint produced nearly $50 million (face value) of gold and silver coins, including gold double eagles ($20) and eagles ($10), half eagles ($5), silver dollars, half dollars, quarters, dimes and 20-cent pieces.
With the Comstock boom played out, the Mint stopped producing coins in 1893 and the coin presses were removed in 1899. But the silver and gold coins with the "CC" mint mark are today among the most coveted — and valuable — for coin collectors.
The little mint on Carson Street is anything but forgotten and on Tuesday, February 4, the Nevada State Museum — which now occupies the former Mint building — is celebrating the 150th anniversary of the Carson City Mint with a day of festivities, including the minting of a .999 pure silver commemorative medallion recognizing the Mint and Coin Press No. 1.
The day's guest of honor is the director of the U.S. Mint, David Ryder, who will strike the first sesquicentennial medallion on Coin Press No. 1. Nevada Gov. Steve Sisolak and other state leaders in attendance will also be invited to assist with first strikes.
Tentative Schedule
8:30 a.m.: Free admission to the museum. Planchets for sale in the museum store.
9:30 a.m.: Parade down Carson Street from Capitol to Mint with a local high school marching band.
10 a.m.: Following remarks marking the occasion, the Mint opens its actual front doors allowing historic access to the museum. The front doors on Carson Street are how the building was entered in 1870.
11 a.m.: Sesquicentennial Program with keynote speaker, David Ryder, Director of the U.S. Mint. Nevada Gov. Steve Sisolak is also invited to speak as are other Nevada dignitaries. Buffet lunch reception sponsored by the Nevada Mining Association follows the program.
Noon: Coin Press No. 1 demonstrations begin. Planchets available for purchase and minting into a new sesquicentennial medallion.
1 p.m.: Cutting of the sesquicentennial cake.
5 p.m. (ticketed event): Cocktail reception at the Governor's Mansion with David Ryder, Director of the U.S. Mint. Tickets are $100 and include a silver sesquicentennial medallion.
The Carson City Mint Sesquicentennial celebration is supported by the Nevada Mining Association, Travel Nevada, Carson City Culture and Tourism Authority and Coeur Rochester, Inc.