VILLE DE SAGUENAY, QC — In the long-standing tradition of celebrating Canada's natural and historical landmarks, the Royal Canadian Mint today unveiled a new collector coin featuring Quebec's Notre-Dame-du-Saguenay.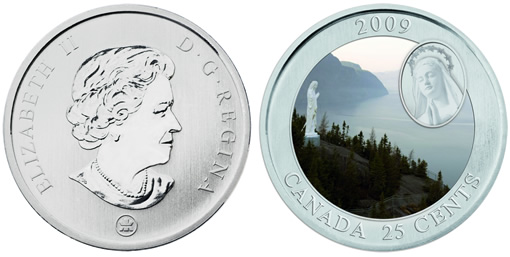 The coin combines a painted illustration of Quebec's world-famous Saguenay Fjord with an engraved cameo of the 10.5-metre statue of Notre-Dame-du-Saguenay, which has watched over sailors and passengers navigating the fjord's waters for over 125 years. As the 2009 tourist season gets under way, visitors from Canada and around the world can now purchase this unique coin throughout the Saguenay region. This coin is available for $14.95 CDN, while supplies last.
"The Royal Canadian Mint is proud to pay tribute to compelling symbols of Canadian identity which speak to Canada's heritage, culture and values," said Ian E. Bennett, President and CEO of the Royal Canadian Mint. "The figure of Notre-Dame-du-Saguenay, which graces the dramatic cliffs of the Saguenay Fjord, is an unforgettable symbol of an extraordinary part of Quebec and it is a pleasure to see it captured on a new Royal Canadian Mint collector coin."
"The diverse panoramas of the Canadian landscape are the envy of the world and the Saguenay Fjord is a striking example of Canada's many natural treasures," said the Honourable Jean-Pierre Blackburn, Minister of National Revenue and Minister of State (Agriculture). "The issue of a Royal Canadian Mint collector coin honouring both the Saguenay Fjord and Notre-Dame-du-Saguenay, its historic monument, is a wonderful tribute to an exceptional Canadian region."
In addition to a broad network of Saguenay vendors, this new coin can be purchased directly from the Mint at 1-800-267-1871 in Canada, 1-800-268-6468 in the US, or on the Internet at www.mint.ca. It is also available through the Mint's global network of dealers and distributors.
About the Royal Canadian Mint
The Royal Canadian Mint is the Crown Corporation responsible for the minting and distribution of Canada's circulation coins. An ISO 9001-2000 certified company, the Mint is recognized as one of the largest and most versatile mints in the world, offering a wide range of specialized, high quality coinage products and related services on an international scale.
The Mint is an Official Supporter of the Vancouver 2010 Olympic and Paralympic Winter Games and has undertaken to produce the most extensive circulation coin program in relation to the Olympic Games ever conceived by any mint worldwide, while also offering limited mintage collector coins and sets. Visit www.mint.ca/2010 for Vancouver 2010 keepsakes and gifts.