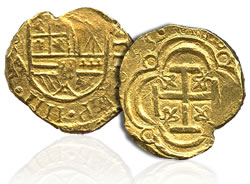 For many, Summer Seminar is a life-changing event. It has catapulted the careers of many of the nation's most successful numismatic collectors, authors and dealers, and guided young numismatists to become hobby leaders.
Now celebrating its 41st year, ANA's Summer Seminar, as always, will feature a lineup of classes to suit virtually every collector's hobby needs.
Among the many classes that will be offered at the Seminar, we have the pleasure to announce our participation in a fully focused course about cobs and shipwreck coins, intensively spread in a 5-day seminar.
This year, Daniel Frank Sedwick, LLC accepted the proposal of the American Numismatic Association to hold a Summer Seminar course entitled "Cobs and Other Shipwreck Treasure Coins," being offered during Session I (June 27-July 3, 2009) at the ANA's headquarters in Colorado Springs, Colorado.
This course will be taught by all three of the Sedwick experts, as you can see from the course description in the ANA catalog:
The Sedwick name has long been associated with Spanish colonial cobs and other "treasure coins" from shipwrecks around the world. Daniel Frank Sedwick has spent nearly 20 years educating cob collectors about these fascinating handstruck coins (known to Spaniards as "macuquinas") made in the Spanish colonies in the 1500s through the 1700s.
Daniel is joined by fellow experts Agustín García-Barneche and Alan Workman to cover all aspects of so-called "pieces of eight," "doubloons" and other treasure coins.

Instructors: Daniel Frank Sedwick, professional numismatist and co-author of The Practical Book of Cobs; Agustín García-Barneche, author of The Macuquina Code; and Alan Workman, a specialist in treasure-related literature.

Please contact the ANA now to reserve your spot in the class: (719) 482-9850 or via web at the ANA site.
# # #
About Daniel Frank Sedwick
Daniel Frank Sedwick, LLC is the world's premier specialist in the colonial coinage of Spanish America, shipwreck coins and artifacts of all nations. In addition to an Online Store, Daniel Frank Sedwick, LLC sell coins and artifacts at various numismatic shows around the nation.
Daniel Frank Sedwick, LLC also has the honor of being the only auction company in the world specializing in Authentic Treasure! Auction catalogs are accessible on the web and printed in a high-quality format with full-color illustrations for all lots.
In addition to publishing several catalogs per year, Daniel Frank Sedwick is a regular vendor at major international coin shows, including FUN, CICF, and ANA. Until early 1996, Mr. Sedwick worked in partnership with the late Dr. Frank Sedwick, who began the business in 1981 and became known as a pioneer in the field of Spanish colonial numismatics with his book, The Practical Book of Cobs.
The fourth (2007) and third (1995) editions of this well-known book were authored and co-authored by Daniel Sedwick, who is also a contributing editor to The Numismatist (the monthly magazine of the American Numismatic Association) and the author of several articles.