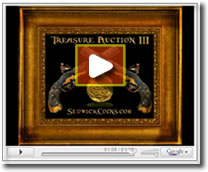 Sedwick's Shipwreck Treasure Auction #3 includes a rare astrolabe, silver coins, gold ingots, Chinese porcelain and other artifacts carefully selected for quality and eye-appeal.
In this latest auction, Numismatist Daniel Frank Sedwick included treasure artifacts of over 1100 lots from many shipwreck finds, including:
Gold cobs from the Spanish 1715 Fleet of the east coast of Florida,
Gold ingots and nuggets from the Espadarte wreck of 1558 off Mozambique,
Silver "tumbaga" ingots from the still-unidentified wreck of ca. 1528 off the Bahamas,
Rare mariner's astrolabe from a Florida wreck (ca. 1580),
Small artifacts from the Arqueonautas finds off Africa,
Porcelains from wrecks off the Philippines (the Ying Lung collection).
The shipwreck coins section of the auction includes two large offerings:
a second installment of silver cobs from the Consolación, sunk off Ecuador in 1681, and
the first-ever auction of silver coins from the "Coconut wreck" of ca. 1810 sunk in deep water off Bermuda.
The rest of the coin offerings include a substantial collection of Spanish colonial 8 reales of all different types and most of the mints, including some scarce Mexican War for Independence issues.
A few of the highlights from the over 1100 lots may be seen by watching the embedded video below.
Bidding closes at 5:00 p.m. EDT on Thursday, May 29. For more information and bidding details, visit www.SedwickCoins.com.