Numismatist Daniel Frank Sedwick featuring Treasure Auction #3 with over 1100 lots, including a rare astrolabe, gold cobs, silver coins, Chinese porcelains and other artifacts.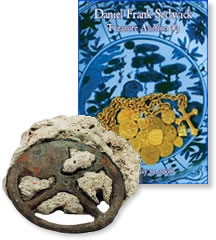 Winter Park, FL – Numismatist Daniel Frank Sedwick is releasing a Treasure Auction, among the items on the numismatic market today are gold cobs, particularly from the Spanish 1715 Fleet off the east coast of Florida, and this sale features dozens of them, all carefully selected for quality and eye-appeal.
There will be also some small gold ingots and nuggets from the Espadarte wreck of 1558 off Mozambique," commented Daniel Sedwick,

"We offered the first part of this unique collection of gold pieces in our Treasure Auction #1 a year ago, and they were well received. This time we are certain of the shipwreck name, which should boost their interest even further."
Another early important shipwreck find in this auction is the Michael Goldston collection of silver "tumbaga" ingots from a still-unidentified wreck of ca. 1528 off the Bahamas.
"Mike realized the significance of these bars when they were first offered in the 1990s and bought up a sizable number of them with an eye toward investment," continued Sedwick, "That turned out to be a good move, as today the bars sell for much more, and not just because of the rise of the melt value of silver.

The bars should increase further in value when a much-anticipated book (which will feature several of the ingots offered in this auction) by researcher Agustín García-Barneche about the "tumbaga" finds hits the shelves."
In the shipwreck coins section of this auction there are two large offerings: a second installment of silver cobs from the Consolación, sunk off Ecuador in 1681 (the first offering was in our Treasure Auction #2); and the first-ever auction of silver coins from the "Coconut wreck" of ca. 1810 sunk in deep water off Bermuda.
The rest of the coin offerings include a substantial collection of Spanish colonial 8 reales of all different types and most of the mints, including some scarce Mexican War for Independence issues. Augmenting this collection are several consignments of silver cobs from the various colonial mints.
The most impressive treasures in this auction are in the artifacts section, where you will see an original mariner's astrolabe from a Florida wreck (ca. 1580), many small artifacts from the Arqueonautas finds off Africa, and some beautiful Chinese porcelains from wrecks off the Philippines (the Ying Lung collection).
Many more coins and artifacts are also offered, over 1165 lots in all, with a pre-auction estimate of $625,000 to $900,000 total.
For more information and a catalog for Treasure Auction #3, visit www.SedwickCoins.com.
# # #
About Daniel Frank Sedwick
Daniel Frank Sedwick is a full time dealer specializing in the colonial coinage of Spanish America as well as shipwreck coins and artifacts of all nations.
In addition to publishing several catalogs per year, Mr. Sedwick is a regular vendor at major international coin shows, including FUN, CICF, and ANA. Until early 1996, Mr. Sedwick worked in partnership with the late Dr. Frank Sedwick, who began the business in 1981 and became known as a pioneer in the field of Spanish colonial numismatics with his book, The Practical Book of Cobs.
The fourth (2007) and third (1995) editions of this well-known book were authored and co-authored by Daniel Sedwick, who is also a contributing editor to The Numismatist (the monthly magazine of the American Numismatic Association) and the author of several articles.
Mr. Sedwick is a member of the American Numismatic Association and Florida United Numismatists, and holds a Bachelor of Science degree (cum laude) from Duke University.