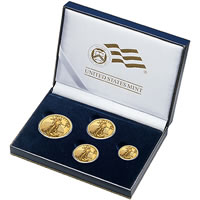 The uncirculated 2008 American Eagle Gold Four-Coin Set sold out Tuesday, and were removed from the United States Mint's online store.
The collector's set included the gold sizes: one ounce, one-half ounce, one-quarter ounce, and one-tenth ounce, with the "W" mintmark. Each of these coins is still available for purchase separately.
The one-tenth ounce size, however, has a backorder shipping date of Feb. 20 shown and is likely to be the next sellout given recent collector coins that have disappeared from Mint store shelves.
The four-coin set will not be issued in 2009, nor will the one-half ounce, one-quarter ounce, and one-tenth ounce sizes. Only the one-ounce option will make a comeback. The Mint announced late last year that it would eliminate many collector coins from its numismatic portfolio, and the eagle uncirculated coins were prominently on the list.
The coin price guide shows 2,862 of the sets have been sold. There was a 4.3 percent increase comparing sales figures from January Week 4 to Week 5. The U.S. Mint should report nearly finalized numbers by next week.
The Mint page for its series of available eagle coins is located at: American Eagle Gold Uncirculated Coins.