Finding unique and memorable holiday gifts for collectors has been made easier by world mints and their spectacular coins. Most collectors would be thrilled to unwrap and behold any number of modern coins. There is usually very little difficulty in discovering what coins interest many collectors.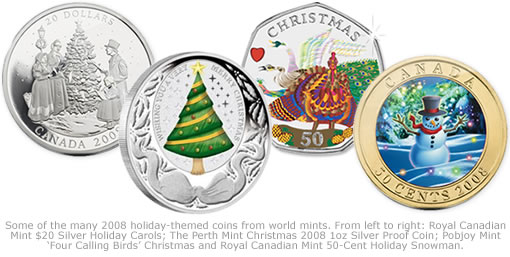 For youngsters are those who could be inclined to collect, however, finding the right coin as a gift is often times more difficult. For them, coins struck just for the holidays may be the unique gift to consider. Here are several holiday-themed coins from some major mints:
Royal Canadian Mint Gift Guide
The Royal Canadian Mint has perhaps the largest selection of holiday coins. To name a few:
Holiday Gift Set
50-Cent Holiday Snowman
$20 Silver Sapphire Crystal Snowflake
$20 Silver Amethyst Crystal Snowflake
$20 Silver Holiday Carols
To browse the entire holiday catalog, visit: Royal Canadian Mint Holiday Gifts
The Perth Mint of Australia
The Perth Mint of Australia has a proof silver coin featuring a decorated Christmas tree with the inscription "WISHING YOU A VERY MERRY CHRISTMAS." The one-ounce silver coin is limited to 5,000 and comes within a presentation display case. For more information, follow Christmas 2008 1oz Silver Proof Coin.
While not specific to the holidays and yet designed specifically for the young collectors, consider The Perth Mint's 2008 Australian Animal $1 Coins.
Pobjoy Mint
The Pobjoy Mint struck several holiday coins on behalf of the Isle of Man with each depicting the "Four Calling Birds," which is the forth verse of the famous carol The Twelve Days of Christmas.
This holiday series is in its forth year. It began in 2005 and featured a "Partridge in a Pear Tree." 2006 depicted "Two Turtle Doves." And 2007 had the "Three French Hens."
The coins range in price from $17.95 to $449 and are minted in proof or uncirculated and struck in either silver, gold, or cupro nickel. For all product versions, visit Isle of Man 'Four Calling Birds' Christmas.
Other World Mints
While the above mints provided holiday-themed coins, many others offer online listings with coins that are popular during the holidays. Visit Coin Collecting News and its Mints tab for links to many world mint websites. Once on the site, look for their "gift" or "holiday" section.