New coins from the Royal Canadian Mint celebrate the holiday season with festive designs to include Christmas trees, ornaments, poinsettias and joyful family activities.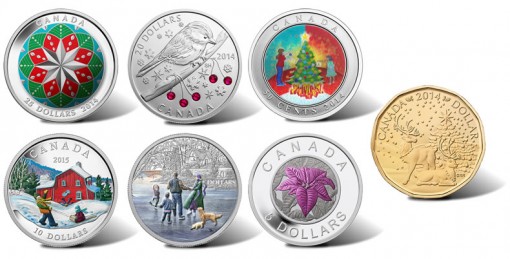 Unique for collections or ideal as gifts, the Royal Canadian Mint is currently featuring seven different holiday-themed products. An affiliate link to the Mint's holiday page is right here. Summary information about them is further below.
2014 $25 Christmas Ornament Silver Ultra-High Relief Colored Coin
Issued as the Royal Canadian Mint's first ultra-high relief coin with color, the 2014 Christmas Ornament coin depicts a stylized circular ornament centered around a deeply indented star.
Limited to 6,000, this 99.99% pure silver coin is quadruple struck for enhanced detail. Pricing is CAD $129.95, or US $114.74.
2014 $20 Chickadee with Swarovski Winter Berry Elements Silver Coin
Five red Swarovski® crystal elements are integrated into the design of this collectible proof coin. They appear as bright red berries hanging delicately below a tree branch from where a black-capped chickadee is perched.
The coin is composed of one ounce of 99.99% fine silver, limited to 7,500 and is priced at CAD $114.95, or about US $101.50.
2014 50c Lenticular Christmas Tree Coin
This eighth issue in an annual series of holiday lenticular coins features a unique 3D effect that follows an evergreen tree's journey from a wintry outdoor setting to the centerpiece of a family's Christmas celebrations. The cupro-nickel coin's reverse is based on stylized holiday images by Canadian artist Steve Hepburn.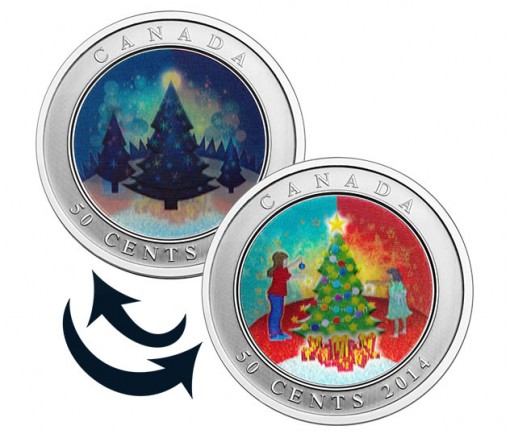 Mintage is limited to 20,000 with pricing of CAD $29.95, or US $26.44. Of note, the Mint indicates 86% of the coin's mintage has already been sold.
2014 Holiday Gift Set
The 2014 Holiday Gift Set offers an affordable option for those looking to give uncirculated Canadian coinage with a unique specially struck $1 piece. The uncirculated coins include the $2, 25c, 5c, and 10c.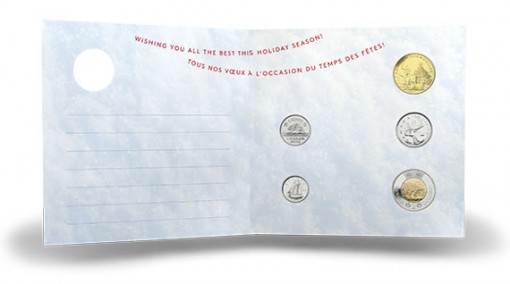 Found on the reverse of the three-ply brass plated steel $1 coin is a festive holiday image.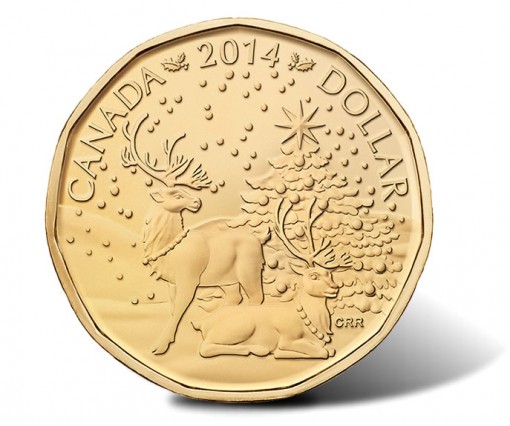 The five coins of the set are attached to a display folder which also includes room for a personalized message. Pricing of the set is CAD $19.95, or about US $17.62.
2014 $5 Poinsettia Silver Coin with Niobium Coloring
As discussed earlier on CoinNew.net, the 2014 Poinsettia Silver Coin is the third issue from the Mint's Flowers in Canada Series.
"Across Canada, the poinsettia is a cherished plant that comes into full bloom in December to beautify homes, offices, stores and institutions during the holiday season," describes the Mint.
Offered on the reverse is a colorful poinsettia flower. An individually oxidized niobium core offers a one-of-a-kind patina that will last forever.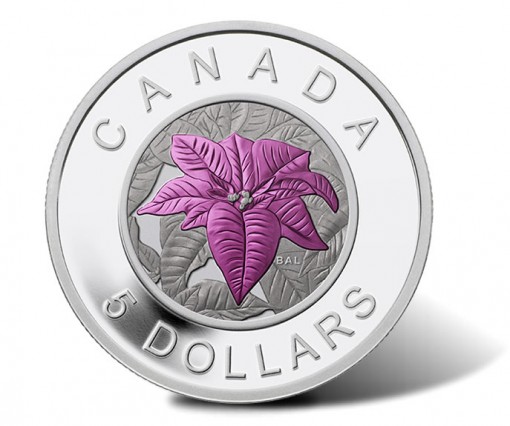 Each is struck to proof quality from 9 grams of 99.99% pure silver. Mintage is limited to 6,000 with pricing CAD $139.95, or US $123.57.
2015 $20 Ice Dancer Silver Coin
Popular Canadian artist Douglas R. Laird created the original painting upon which the reverse design of the 2015 Ice Dancer 1 oz. Fine Silver Coin is based. It shows a scene of a family skating on a frozen pond.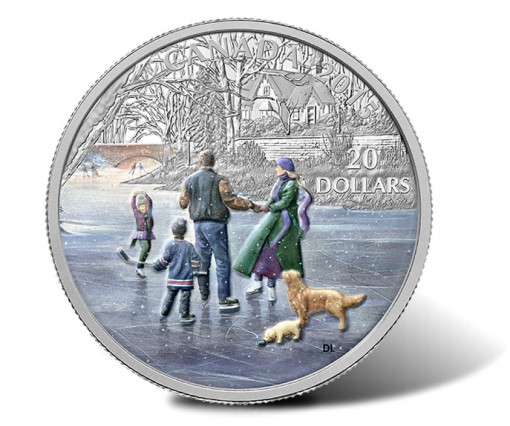 This coin is struck in one ounce of 99.99% pure silver, limited to 7,000 and is CAD $99.95, or about US $88.25.
2015 $10 Winter Scene Silver Coin
This year's winter scene coin shows three children tobogganing behind their red snow-covered house. The colored scene also depicts a gently rolling countryside off in the distance.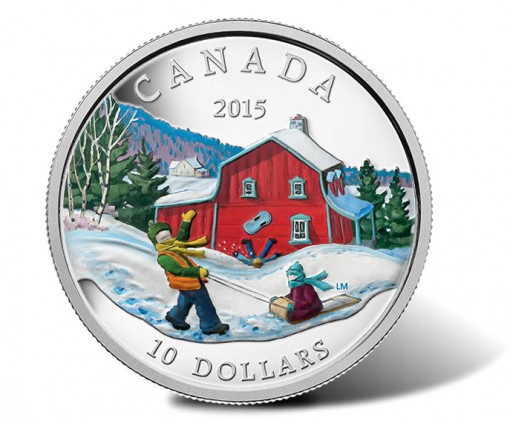 Each one-half ounce 99.99% pure silver proof coin is available, while mintages last, for CAD $64.95, or US $57.35. As for the mintage, it is 8,000. Of note, last year's winter scene coin sold out.
Ordering
All of the above coins are available on the Royal Canadian Mint's website at mint.ca, or by using this affiliate link to the Mint's holiday coins.