New York gold prices inched slightly higher Wednesday, as the markets watched the financial debate and waited for any Washington movement on the U.S. $700 billion bailout plan. Silver, gold and platinum futures rose, 2.1 percent, 0.4 percent, and 1.2 percent, respectively.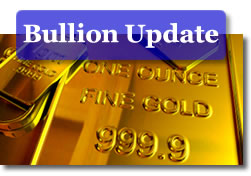 November crude-oil lost 88 cents to settle at $105.73 per barrel. The U.S. Energy Department reported declines in crude, and gasoline supplies for last week, but also reported weaker demands.
December silver climbed 27 cents to close to $13.44 an ounce.
October platinum gained $13 to end at $1,225 an ounce.
December gold moved up $3.80 to settle at $895 an ounce. During the day, it hit a low of $890.40 and a high of $907.80.
"New York gold prices traded in restrained albeit lower trending patterns during this midweek session. The yellow metal moved back and forth between $879 and $903 per ounce, but remained confined to the $875-$925 channel as participants followed Mr. Bernanke's Plan "P" sales presentation on Capitol Hill for a second day," said senior analyst Jon Nadler at Kitco Bullion Dealers.

"Traders are seen as still reluctant to take significant positions before the rescue plan takes final shape. Volatility will remain visible so long as the package faces fresh legislative headwinds and uncertainty continues in other markets," continued Nadler.
Gold generally follows oil's direction and moves opposite to the U.S. dollar, as a weakened dollar encourages investors to buy gold, also considered a hedge or safe-haven during times of high inflation and economic uncertainty.
Check out CoinNews market resources at Live Silver, Gold & Platinum Spots, the Silver Coin Calculator and the Inflation Calculator.