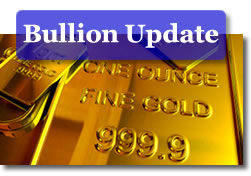 As stocks ended slightly lower Wednesday and the markets anxiously awaited the Senate's vote on its proposed financial rescue plan, New York precious metals moved into positive territory. Nymex silver, gold and platinum futures gained 4 percent, 0.7 percent, and 1.4 percent, respectively.
November crude oil dropped $1.78, or 1.8 percent, to $98.89 per barrel. It reached as low as $95.95 in intraday trading.
December silver climbed 49 cents to close to $12.77 an ounce.
October platinum rose $14.60 to end at $1,029.70 an ounce.
December gold gained $6.50 to settle at $887.30 an ounce.
"Gold prices traded all over the map during the midweek session but were ultimately, showing basic fatigue and failed to climb back above $900," said senior analyst Jon Nadler at Kitco Bullion Dealers.

"Small footnote on the 'gold rush' of 2008. Yes, demand is up. Yes, the US Mint is likely to end up selling close to 790,000 ounces of gold before this year draws to a close (based on ytd patterns). But, it is worth noting that the sales it recorded in 1987 totaled 1.250.000 ounces. Also worth noting is the 250,000 ounce sales level that was recorded just four years later, in the recession of 1991," continued Nadler.
Gold generally follows oil's direction and moves opposite to the U.S. dollar, as a weakened dollar encourages investors to buy gold, also considered a hedge or safe-haven during times of high inflation and economic uncertainty.
Check out CoinNews market resources at Live Silver, Gold & Platinum Spots, the Silver Coin Calculator and the Inflation Calculator.