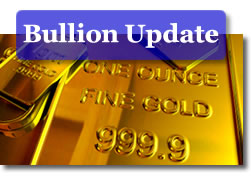 New York precious metals retreated while the U.S. dollar climbed Thursday as news of a "fundamental" agreement came from Washington regarding the U.S. $700 billion financial rescue plan. Nymex Silver, gold and platinum futures lost, 1.2 percent, 1.5 percent, and 2.8 percent, respectively.
November crude-oil recovered from Wednesday's 88 cent loss to gain $2.29, closing to $108.02 per barrel.
December silver lost 16 cents to close to $13.28 an ounce.
October platinum fell $40.8 to end at $1,184.20 an ounce.
December gold dropped $13 to close to $882 an ounce.
"Angst and hand-wringing regarding the fate of the plan to rescue the financial system and that of the key US economy continued on Thursday as yet another series of acrimonious deliberations took place on Capitol Hill and soothing speeches were being delivered by various US officials," said senior analyst Jon Nadler at Kitco Bullion Dealers.

"Alas, very little in the way of concrete measures was offered, and thus the markets resumed their own pattern of hand-wringing. Some markets rose, … while others fell … as speculators anticipated passage of the plan and a return of stability to a badly shaken system," continued Nadler.
Many analysts are expecting a positive trend for gold with the enactment of the $700 billion plan. In a MarketWatch report Thursday, Peter Spina, president, Gold Seek LLC, was quoted as saying that the plan:
"will continue to undermine the value of the U.S. dollar and further support a flow of capital out of paper into hard assets, into gold and silver."
James Moore, an analyst at TheBullionDesk.com, was also quoted:
"Given the weaker U.S. economic and dollar outlook, increased safe-haven demand and improved technical picture, gold is in a strong position to push higher.
Gold generally follows oil's direction and moves opposite to the U.S. dollar, as a weakened dollar encourages investors to buy gold, also considered a hedge or safe-haven during times of high inflation and economic uncertainty.
Check out CoinNews market resources at Live Silver, Gold & Platinum Spots, the Silver Coin Calculator and the Inflation Calculator.