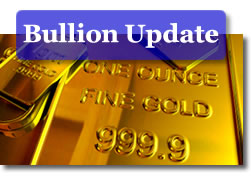 New York silver, gold and platinum futures fell Tuesday, as the U.S. dollar showed strength and crude dropped following yesterday's monstrous surge.
After gaining more than $16 Monday, November crude-oil fell $2.76 to end at $106.61 per barrel.
December silver lost 28 cents to close to $13.17 an ounce.
October platinum fell $23.80 to end at $1,212 an ounce.
December gold dropped $17.80 to close to $891.20 an ounce. Concerns over the government's proposed $700 bailout and its impact has some analyst believing gold is better positioned to trend higher. But the known and unknown variables in play offer no guarantees either way, obviously.
"Commodities markets woke up to the reality of less-than-available funds for participants to play with, and the looming specter of market regulation as legislators catch flak from a broad range of constituents. Obviously, the disappearance of Wall Street as we knew it has ushered in a new era – one that will inevitably affect every corner of finance, and that includes commodities," said senior analyst Jon Nadler at Kitco Bullion Dealers.

"Gold prices fell back to under $900 overnight and expectations that it was in the express lane of a one-way autobahn to $1K and beyond, were tempered for the time being," continued Nadler.
Gold generally follows oil's direction and moves opposite to the U.S. dollar, as a weakened dollar encourages investors to buy gold, also considered a hedge or safe-haven during times of high inflation and economic uncertainty.
Check out CoinNews market resources at Live Silver, Gold & Platinum Spots, the Silver Coin Calculator and the Inflation Calculator.