A stronger U.S. dollar, retreating oil prices, and weakened consumer confidence and home price data weighed heavily on gold. Silver and platinum declined as well while U.S. stocks dipped lower.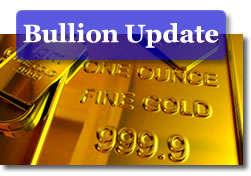 In New York trading futures for bullion:
Silver for July delivery dropped 37.3 cents, or 2.7 percent, to 13.574 an ounce.

Gold for August delivery fell $13.30, or 1.4 percent, to $927.40 an ounce.

July platinum declined $7.50, or 0.6 percent, to $1,176.70 an ounce.
Early metal gains evaporated when the dollar surged following the release of lackluster consumer confidence and falling home price data.
"Obviously, in these days where everything is linked together, from crude prices to the price of gold, any change to people's view of the economy and inflation expectations will cause a reaction," Ole Hansen, an analyst at Standard Bank was quoted on Reuters.
Reports revealed U.S. consumer confidence retreated from a 54.8 reading in May to 49.3 in June and home prices fell in April.
In London bullion, the benchmark gold price was set earlier in the day to $934.50 an ounce, $1.00 lower than the fixing on Monday. Silver was set 13 cents down to $13.94 an ounce. Platinum was fixed $2.00 higher to $1,186.00.
Gold, considered a hedge during times of high inflation and economic uncertainty, tends to follow oil and move opposite to the U.S. dollar. A rising greenback makes dollar-denominated commodities, like bullion, more expensive for holders of other world currencies.
Oil and gasoline prices
Oil plunged below $70 a barrel Tuesday as "U.S. economic data showed faltering consumer confidence and falling home prices, setting back hopes for a recovery and higher oil demand," writes Moming Zhou and Polya Lesova of MarketWatch.
New York crude-oil for August delivery fell $1.60, or 2.2 percent, to close at $69.89 a barrel. Earlier in the day it had climbed as high as $73.88 riding the 3.3 percent surge from Monday.
Stretching into a several day trend, prices at the pump fell six-tenths of cent. AAA said the national average for unleaded gasoline is at $2.633 a gallon. The price is 5 cents lower than a week ago but still 13.10 cents higher than last month.
U.S. Stocks
U.S. stocks declined "with a weaker-than-expected consumer confidence report and a slump in oil prices sparking the selloff," writes Alexandra Twin of CNNMoney.
The Dow Jones industrial average fell 82.38 points, or 0.97 percent, to 8,447.00. The S&P 500 Index lost 7.91 points, or 0.85 percent, to 919.32. The Nasdaq Composite Index declined 9.02 points, or 0.49 percent, to 1,835.04.
Check out additional market resources at Live Bullion Spots, the Silver Calculator, U.S. Mint Collector Bullion Price Guide, and the Inflation Calculator.