Dallas, TX: Heritage Auction Galleries will offer the very first $2 note ever printed by the U. S. Government in their upcoming Long Beach Currency Signature Auction, to be held September 17-19, 2008.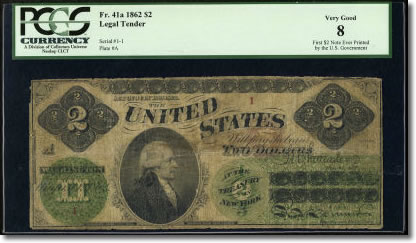 Fr. 41a $2 1862 Legal Tender PCGS Very Good 8
The large-size 1862 Legal Tender note (Fr. 41a) is serial number one, and has had four different owners over the past 100 years. Two of the four collectors have owned the note for approximately 70 of those 100 years.
"Due to an inability to pay its debts in gold or silver during the Civil War, the U. S. Congress authorized the printing of a new series of paper notes, called Legal Tenders, in denominations of $1, $2, $5, $10, $20, $50, $100, $500, and $1000" said Jim Fitzgerald, Consignment Director for Heritage.

"Initially resisted by the people, who were accustomed to the established gold and silver coinage, the Legal Tender Act of 1862 firmly established the paper money as a legitimate form of currency in the United States."

"The notes were quickly released into circulation, and were used nationwide for the payment of both public and private debts," Fitzgerald continued.

"We know that the very first $1 note, Serial #1, was saved, and many believe that it still resides with the Chase Manhattan Bank in New York , as Salmon P. Chase is depicted on its face.

Surprisingly, this very first $2 note was simply turned out into circulation, and, after making its way through the pages of history, both as a circulating note and as a part of several collections, is now heading for auction to begin the next phase of its remarkable journey."
The face of the note bears a portrait of Alexander Hamilton, with a double Serial #1 and plate position A, designating that this is the top note from the first sheet printed, as there were four notes to a sheet, with letters as plate positions running from top to bottom.
"The note is a true miracle of survival, and obviously has circulated for quite some time, having been graded Very Good 8 by PCGS Currency," Fitzgerald said. "This is an important piece of American history, and deserves an honored spot in a fine collection." The note is estimated at $125,000.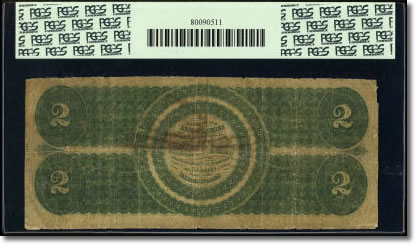 Fr. 41a $2 1862 Legal Tender PCGS Very Good 8
To view all the lots in the upcoming auction, please visit www.HA.com/Currency.
If you are interested in selling your collection in this greatly anticipated auction, contact one of our Currency Specialists at 1-800-872-6467, Ext. 1001.
About Heritage Auction Galleries
Heritage Auction Galleries is the world's third largest auction house, and by far the largest auctioneer of rare collectibles, with annual sales over $600 million, and 375,000+ registered online bidder members. For more information about Heritage's auctions, and to join and gain access to a complete record of prices realized, along with full-color, enlargeable photos of each lot, please visit www.HA.com.
# # #