The new year got off to a rousing start for currency collectors in Tampa, FL as they participated in Heritage Auctions' Signature® Currency Auction, Jan. 6-11, held in conjunction with the FUN (Florida United Numismatists) Convention.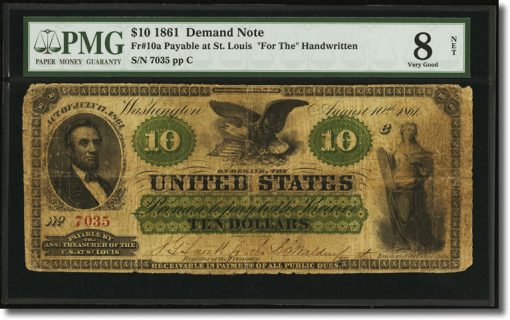 The auction realized more than $7.8 million, including the non-floor sessions, held Jan. 10-11. All prices include 15% Buyer's Premium.
One of the most closely followed and well-publicized items in the auction was the newly discovered, and certainly rare Fr. 10a $10 1861 Demand Note graded PMG Very Good 8 Net, a handwritten "For The" example from the St. Louis district, which brought $109,250.
"Prior to the recent discovery of the note," said Allen Mincho, Director of Currency Auctions at Heritage, "no handwritten 'For The' St. Louis Demand Notes were known in any denomination."
A unique set of Small Size proof notes, furnished by William H. Woodin that included front and back die proofs featuring a $1 1928 Legal Tender Note and $5 through $100 Chicago 1929 FRBNs, was also the subject of much collector interest. The framed grouping brought $86,250.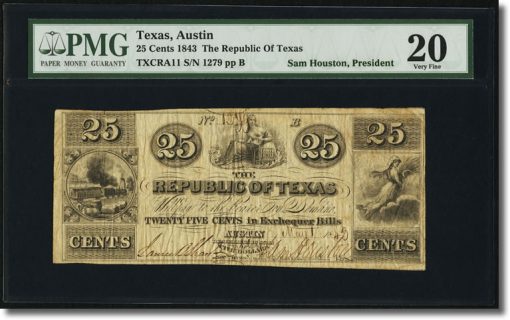 Another much anticipated lot was the scarce Austin, TX- Republic of Texas 25¢ May 1, 1843 Cr. A11 Exchequer note, which commanded $63,250.
"This piece was found by the consignor tucked away in an old textbook contained in a group lot of old books bought for $10 at a public auction," said Mincho. "It's one of those great stories about found money, literally, that shows up out of nowhere. Needless to say, we're thrilled for the consignors who did so well on this and for the smart collector that now owns this note."
Not surprisingly, a number of the high denomination notes brought strong prices: A Fr. 2221-J $5000 1934 Federal Reserve Note graded PCGS Extremely Fine 45PPQ brought $80,500, while a Fr. 2231-G $10000 1934 Federal Reserve Note graded PCGS Extremely Fine 45PPQ finished the day at $74,750 and the Fr. 2220-K $5000 1928 Federal Reserve Note graded PCGS Apparent Fine 15 hammered for $71,875.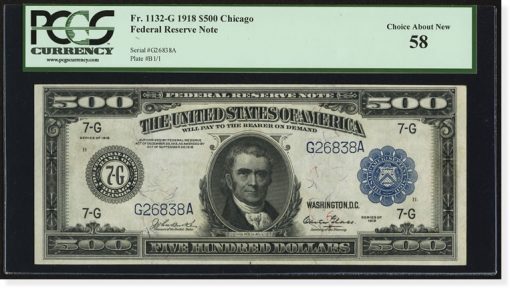 Large Size Type Notes fared well, with the spectacular Chicago District $500, a Fr. 1132G $500 1918 Federal Reserve Note PCGS Choice About New 58 realizing $51,750 and a Fr. 158 $50 1880 Legal Tender graded by PCGS as Choice About New 55, one of nine known, brought $63,250.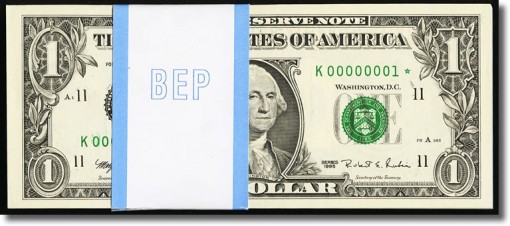 The Low Serial Number Fr. 1922-K* $1 1995 FRN Original Pack of 100 Serial Numbered 1 – 100 created some fireworks for collectors when it sold for $47,437 and, among the error notes offered, the double denomination Fr. 2071-K $20/$10 1974 Federal Reserve Note graded PMG Choice Uncirculated 64 EPQ performed well at $27,600.
The unique Lynchburg, VA – $50-100 1882 Brown Back Fr. 510-522 The Lynchburg NB Ch. # 1522 Uncut Sheet brought a winning total bid of $40,250.
About Heritage Auctions
Heritage Auctions, headed by Steve Ivy, Jim Halperin and Greg Rohan, is the world's third largest auction house, with annual sales more than $600 million, and 500,000+ registered online bidder members. For more information about Heritage Auctions, and to join and gain access to a complete record of prices realized, along with full-color, enlargeable photos of each lot, please visit HA.com.