A rare $100 1890 Watermelon Note from the Eric P. Newman Collection could realize more than $150,000, according to Heritage Auctions.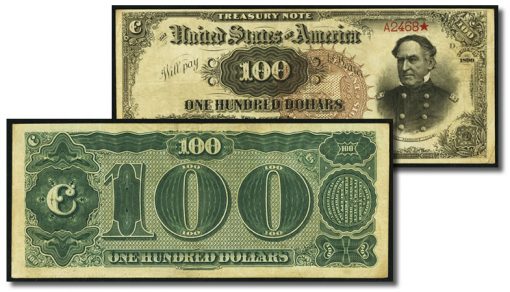 Watermelon notes earned their nickname from the zeros printed on their backs that resemble the fruit. The 1890 $100 note is one of just 35 known to exist, and is being offered in Heritage Auctions' Signature Auction, held April 22 to 28 in conjunction with the CSNS 76th Annual Convention near Chicago, Illinois. The event features rarities that have not been available to money collectors in decades.
"The coveted Eric P. Newman Collection pedigree has set the standard in coins and we expect a similar response when these rare and truly historic pieces of currency are finally brought to public auction — in some cases for the first time in their history," said Dustin Johnston, Director of Currency Auctions at Heritage. "This entire auction is set to redefine the phrase 'fresh to market.'"
Another prominent note up for auction at CSNS is a $50/$100 Double Denomination Brown Back from Kansas City, Missouri. One of only two known, its sale entrance is a first since it sold at public auction in June 1945. The rarity could bring more than $100,000.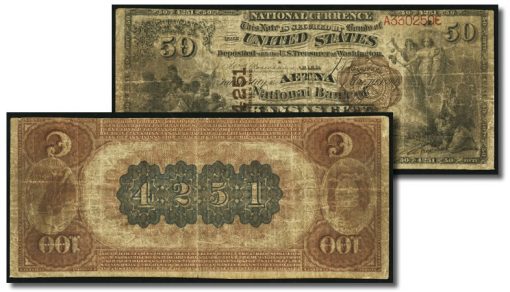 Then there is the only Minnesota "Santa Claus" note known to exist, a $1 showing the Type III style Saint Nick. It should realize more than $25,000.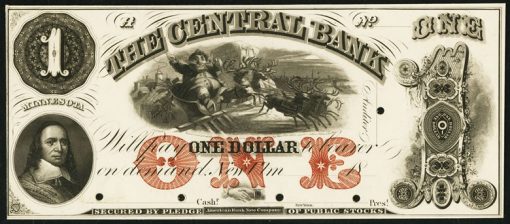 Also likely to draw enormous interest is a 1862 $1 note issued by Clark, Gruber & Co. from Leavenworth, Kansas. This note directly links the founding of the bank and note issuance in Leavenworth to the eventual office in Denver that printed $5 Denver Gold demand notes known as proofs and remainders. That very Denver office would later become the Denver Mint.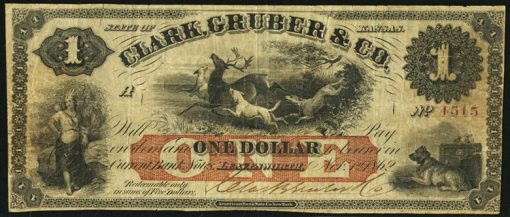 Other highlights from the upcoming sale include, but are not limited to:
A $1 note issued by Clark, Gruber & Co. from Leavenworth, Kansas
An 1860 serial No. 1 American $1 banknote from Dubuque, Iowa, considered the greatest of all Iowa Obsoletes for both its rarity and outstanding condition.
A Superb Gem $2 proof from Madison, Wisconsin, printed on India paper features a full-color portrait of James Madison flanked by a farmer and an Indian.
A $1,000 1928 Gold Certificate, About New 50, PCGS.
A Gem New 66 PPQ, PCGS, $5 1935B Silver Certificate, tied with only one other example at the very pinnacle of the PCGS census.
A high-grade, $20 1775 Continental Currency, displaying a unique marbled-edge unique to the date and denomination.
An uncirculated $5,000 1934 Note, graded Choice Uncirculated 64 EPQ, PMG, and a stand-out note with truly exceptional paper quality.
These items up for sale are from the collection of Eric P. Newman Numismatic Education Society, a Missouri not-for-profit corporation, and assembled over a period of 90 years. Sale proceeds will be used to supplement the Society's museum operations and scholarly numismatic research efforts, and for the benefit of other not-for-profit institutions.
For more information about Heritage Auctions, visit HA.com.