Despite a decrease in crude oil prices, New York precious metals surged higher Thursday as US economic news weakened the dollar. Gold recovered most of Wednesday's losses by rising 1.1 percent rise.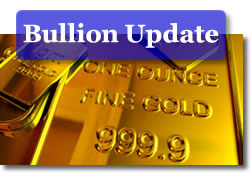 And for the economic news… Real GDP fell 0.2% in the the fourth quarter of 2007, compared with the 0.6% increase previously reported, first-time jobless claims for the week ending July 26 rose 44,000 to 448,000, and real growth accelerated in the second quarter to a 1.9% annual rate, which was lower than forecasts.
Oil lost $3 to close to $124 a barrel.
Silver climbed 32 cents to close to $17.79 an ounce.
Platinum jumped $23.80 to end at $1,761.90 an ounce.
Gold gained $10.40 to finish the day at $922.70 an ounce. Its intraday high was $933.70 an ounce. For the month of July, it lost $11.
"A rise in jobless claims contributed to the dollar-bearsih news today and helped gold regain some of its recently lost ground," said senior analyst Jon Nadler at Kitco Bullion Dealers.

"At the end of the day, it was crude oil that took it on the chin the most, " said Nadler
A falling greenback makes commodities like silver, gold and platinum, less expensive for overseas investors.
Gold typically follows oil and moves opposite to the dollar, as a weakened dollar encourages investors to buy gold, also considered a hedge during times of high inflation and economic uncertainty.
Bullion spots are available on the CoinNews page, Silver, Gold & Platinum Spots.