New York silver, gold and platinum all dropped sharply Tuesday, helped by falling crude-oil prices and a rally in the U.S. dollar. The latter was spurred along by furthering concerns over the economic picture in Europe and Asia.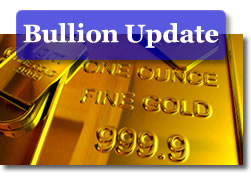 Reports to date indicate Hurricane Gustav did not cause any significant damage to Gulf oil infrastructure. And with that, October oil fell by $5.75, or 5 percent, to close to $109.71 per barrel.
Silver for December fell to $13.15 an ounce, losing 56 cents, or 4.1 percent.
October platinum dropped $86.30, or 5.8 percent, to end at $1,403.50 an ounce.
December gold dropped $24.70, or 3 percent, to close at $810.50 an ounce. Gold hit an intraday low of $795.20 an ounce.
"The grizzly bears took firm control over commodities as the trading month got underway following the holiday on Monday – with grisly results," said senior analyst Jon Nadler at Kitco Bullion Dealers.

"Prices [gold] recovered…, but at this point there remains little in the way of motivating motivate players not to try to retest the high $770's once again," continued Nadler.
Gold typically follows oil's direction and moves opposite to the U.S. dollar, as a weakened dollar encourages investors to buy gold, also considered a hedge during times of high inflation and economic uncertainty.
Check out CoinNews market resources at Live Silver, Gold & Platinum Spots, the Silver Coin Calculator and the Inflation Calculator.