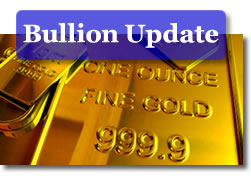 New York gold nudged up as silver and platinum dropped along with crude-oil prices.
The yellow metal, however, lost half of its earlier gains as the impact of falling oil and a rising US dollar started to take hold.
Silver lost 8 cents to close at $18.73 an ounce.
Platinum dropped like a brick to $1,900.40 an ounce, losing $38.
Gold gained $8 to end at $970.70 an ounce, but was off its intraday high of $978 an ounce.
"The first half of Thursday proved to be a better day for gold as morning dollar weakness and oil strength kept the number of additions to open interest growing nicely," said senior Kitco analyst Jon Nadler.

"The afternoon, however, presented a different set of conditions as oil started to fall toward $130 once again, and the greenback climbed toward 72.25 on the index."
At the time of this writing, after-hours trading is managing to push gold lower.
Gold typically follows oil and moves opposite to the dollar, as a weakened dollar encourages investors to buy gold, considered a hedge during times of high inflation and economic uncertainty.
A falling greenback also makes commodities, like silver, gold and platinum, cheaper for overseas investors.
Bullion spots are available on the CoinNews page, Silver, Gold & Platinum Spots.