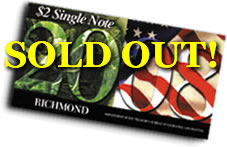 The 2008 Richmond First Day $2 Single Notes were gone within a few hours of their availability. "SOLD OUT" was the Bureau of Engraving and Printing (BEP) message sent to its customers in the middle of Wednesday afternoon.
The Richmond single banknote joins this year's other $2 collector notes — Atlanta, New York, San Francisco, Chicago and Dallas — that were gone within hours.
The BEP's extra steps in downloading a PDF order form and then e-mailing or faxing the final order didn't dissuade collectors. That, or their phone lines were swamped.
The popularity for the notes are due, in part, to their limited 10,000 quantity, their series 2003A crisp uncirculated condition and beginning serial numbers of "2008xxxxD."
Paper money collectors will now have to wait for the re-release of Cleveland and Philadelphia $2 notes. These were postponed months back due to system maintenance improvements.