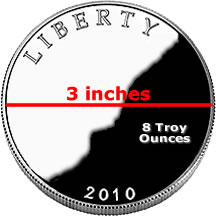 The latest congressional National Parks Quarter proposal calls for a massive three-inch, eight ounce silver collector coin.
An amazing size that would quite easily dwarf current US bullion coinage — as a comparison, the popular American Eagle silver coin is an already large 1.598 inches with a single ounce of silver.
The House of Representatives introduced the America's Beautiful National Parks Quarter Dollar Coin Act, which proposes a minimum 11 year series of circulating quarter dollar coins to feature one national park or site in each state, the District of Columbia, and each U.S. Territory starting in 2010. It would also mandate silver coins for collectors.
The House-introduced legislation passed easily on July 9, 2008. That bill, however, had provisions only for a three-inch, five ounce silver collector coin. "Only" is perhaps the wrong word to use. A coin that size and issued by the US Mint would be history making.
With the House passage, the ball was in the Senate's hands. In a supportive position for minting national park quarters, a nearly identical bill was introduced in the Senate with the short title of S. 3214.
The Senate could move on the House version or S. 3214. Neither has happened, and that's how we get to the eight ounce silver coin.
What happened? Senators John Barrasso [R-WY], Tim Johnson [D-SD] , and Mike Enzi [R-WY] introduced an entirely new coin bill, S. 3290, on July 21. This latest bill has only a few changes from the already passed House version and the older Senate version.
Most notable, and what leaps to the eyes are the short clauses for each coin to:
have a diameter of 3.0 inches and weigh 8.0 ounces;
contain .999 fine silver;
bear the inscriptions of the fineness and weight of the bullion coin; and
bear an inscription of the denomination of such coin, which shall be 'quarter dollar'
While these super-sized coins would have a legal tender inscription of "quarter dollar," their bullion value at today's London silver price of $17.42 an ounce would be $139. Will collectors go for such a large coin? It is difficult to say. Much will likely depend on the final prices.
There is never a guarantee any legislation will pass both houses and get signed by the president to become law. However, there seems to be an air of likelihood for some national park measure to eventually come out.
Without complete surprise, there are already websites in the works containing park quarter information. News of the eight inch silver coin was first mentioned by the website, Park Quarters. Another website dedicated to the quarters is America the Beautiful Quarters.