It's not the largest or heaviest gold coin in the world, but this commemorative Beijing 2008 Olympic Games Gold Coin commands attention. Weighing in at 22 pounds (10 kg), a diameter 7.09 inches (18 cm) and made from .9999 fine gold, the 100,000 legal tender Chinese Yuan coin will cost one cool million to own.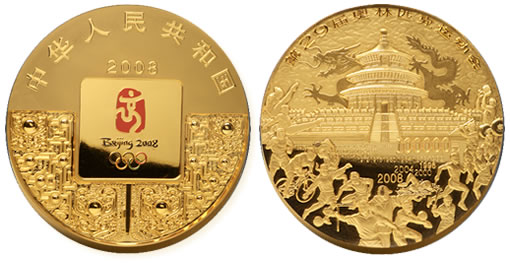 A spectacular price for sure, but is the coin worth its weight in gold? At gold's current spot price of $942.80 an ounce and considering there are 12 troy ounces per troy pound, that puts the coin's bullion value at about $249,000.
It's rare to find any commemorative priced as low as its bullion value. Why?
There are always factors that intrigue collectors or investors to pay premiums over a commemorative coin's bullion content. In this case to sight three, the coin is certainly unique, sharply detailed, and only 29 have been minted worldwide.
In a TwinCities.com article, Douglas Mudd, a curator at the American Numismatic Association Money Museum, said it was also the biggest issued Olympic coin to date, and Olympic coins go back to the early fifth century B.C.
The coin's obverse or heads side depicts the colored emblem of the Beijing 2008 Olympic Games with a design derived from Chinese ancient bronze ware. The reverse shows a group of athletes in front of the Hall of Prayer for Good Harvests.
The embedded video below from the GovMint.com, who has one of the coins for sale, discusses the coin further.