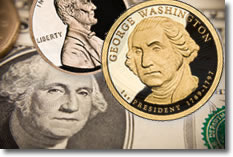 The United States Mint announced a new "Direct Ship" program today that will place $1 Presidential Coins directly into the hands of retailers, financial institutions, or anyone interested in buying dollar coins. Even better, orders may be placed at face value — no shipping costs — and in smaller quantities.
Beyond the natural hurdles $1 coins have with paper money, a barrier to the success of the $1 Presidential Coin program is actually finding the coins in circulation, or in banks for that matter.
Of course, an argument can be made that demand dictates supply and the demand simply hasn't been there for the coins. Yet, there is absolutely no question that at least some demand has hit road-blocks due to coin channels.
The U.S. Mint reported a production of some 941 million $1 coins in 2007 and 240 million (so far) in 2008. That's over a billion coins, and yet, even many dedicated coin collectors have trouble tracking down the coins for their collection.
The Mint's new program hopes to overcome most supply issues, get the $1 coins out of buried vaults, and push them straight into circulation. In a statement, U.S. Mint Director Ed Moy said,
"Retailers and financial institutions want to be responsive to customers' requests for the Presidential $1 Coin. The $1 Coin Direct Ship Program will help them to easily obtain the number of coins that best suits their needs."
Today, it costs about 16 cents to make $1 coins and they have a life span of nearly 30 years. It costs roughly 6.2 cents to make $1 bills, and they have a typical life span of only 21 months. There is clearly savings if the public were to use coins instead of paper money.
The circulating Presidential $1 Coins will be available in 25-coin rolls packaged in quantities of 10 rolls per box, priced at $250 face value. The coins will not be separated by mint mark, and customers may order up to 500 $1 coins (two boxes) within any given Presidential $1 Coin issuance period.
Orders may be placed through the Mint's secure, online site through the page, Circulating $1 Coin Direct Ship Program.