The National Bank of Poland (NBP) has launched a new two-zloty coin for collectors commemorating the Polish town of Bielsko-Biala. The commemorative is the final coin released within the 'Historic Polish Towns' collector coin series. Thirty-one previous historic town coins have been released.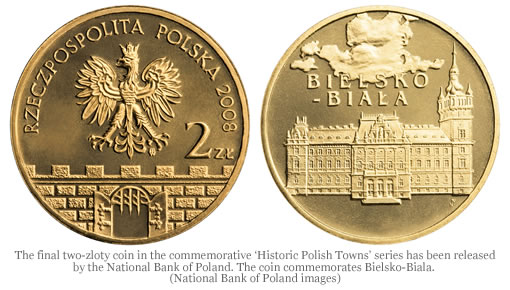 The two-zloty commemorative coin has a mintage limit of 1.1 million and is composed of Nordic Gold, which is mostly copper.
The reverse or tails side of the coin has the name of Bielsko-Biala inscribed and depicts the cities' town hall. The obverse or heads side of the commemorative coin has the image of the Polish white eagle, which is the state emblem of the Republic of Poland, over masonry with an open gate.
Bielsko-Biala city history
Bielsko-Biala is a city in southern Poland with 180,307 inhabitants reported in 1999. The city was created on January 1, 1951 when the adjacent cities of Bielsko and Biala were unified.
Bielsko was founded in 1312. From 1457, the Biala river was the border between Silesia and Little Poland. Silesia belonged to Austria, Little Poland to Poland. In 1723 on the opposite bank of the river the city of Biala was founded.
Previous 'Historic Polish Towns' coins
The previous commemorative coins in the 'Historic Polish Towns' series were:
Łowicz
(launched on March 5, 2008)
Konin
(launched on February 5, 2008)
Piotrków Trybunalski
(launched on January 23, 2008)
Kłodzko
(launched on December 5, 2007)
Tarnów
(launched on November 7, 2007)
Brzeg
(launched on October 3, 2007)
Stargard Szczeciński
(launched on September 5, 2007)
Przemyśl
(launched on August 2, 2007)
Słupsk
(launched on July 4, 2007)
Świdnica
(launched on June 13, 2007)
Racibórz
(launched on May 9, 2007)
Gorzów Wlkp.
(launched on April 4, 2007)
Łomża
(launched on March 6, 2007)
Płock
(launched on February 6, 2007)
Kwidzyn
(launched on January 2, 2007)
Kalisz
(launched on December 5, 2006)
Nowy Sącz
(launched on November 6, 2006)
Chełmno
(launched on October 2, 2006)
Sandomierz
(launched on September 4, 2006)
Pszczyna
(launched on August 7, 2006)
Nysa
(launched on July 3, 2006)
Żagań
(launched on June 1, 2006)
Chełm
(launched on May 15, 2006)
Elbląg
(launched on March 7, 2006)
Bochnia
(launched on February 7, 2006)
Jarosław
(launched on January 24, 2006)
Cieszyn
(launched on December 6, 2005)
Włocławek
(launched on November 18, 2005)
Kołobrzeg
(launched on October 19, 2005)
Gniezno
(launched on September 2, 2005)
Bielsko-Biala

coin specifications

The following specifications are listed for each coin:
2 Zloty Coin Specs

Face Value:
2 zl
Metal:
CuAl5Zn5Sn1 alloy
Finish:
Standard
Diameter:
27.00 mm
Weight:
8.15 g
The Bielsko-Biala commemorative coin is available through National Bank of Poland branches, the post office and coin dealers.