The availability of Royal Australian Mint's silver $1 coin of the 1921 Kookaburra Penny is coming to a close on April 25, 2008. The proof collector coin is minted in 99.9% silver and its inner design is a replica of the 1921 Kookaburra Penny.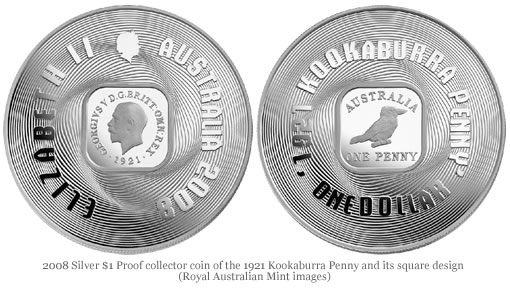 The Kookaburra Penny is noted for its square shape and the collector coin takes on that image. The obverse or heads of the coin bears the image of King George V while the reverse or tails side has the image of the ever popular Kookaburra.
In describing the pattern around the images, the Royal Australian Mint states:
Both images are encircled by intricate detailed lines that give an almost animated swirling appearance and framed with fresh and innovated styling and text.
There are no order limits in place for the coin. However, orders close down on April 25, 2008.
Prices and order information
While the 1921 Kookaburra Penny is rare and could cost many tens of thousands to own, the collector version of the coin is within the grasp of everyday collectors.
$95.00 (AUD/GST)
$86.36 (AUD/INT)
The coin may be ordered online via the Royal Australian Mint product page page:
2008 $1 Silver Proof Subscription Coin
Phone orders may be placed at 1300 652 020.
Specifications
The specifications for the proof coin are:
| | |
| --- | --- |
| Denomination: | $1 |
| Metal: | AG 99.9% |
| Mass: | 60.46 grams |
| Diameter: | 50.00 mm |
| Finish: | Proof |
| Mintage: | Unlimited |
| Designer: | Wojciech Pietranik |
About the Royal Australian Mint
His Royal Highness, The Duke of Edinburgh, officially opened the Royal Australian Mint, Canberra, on Monday 22nd February 1965. The Mint was commissioned to produce Australia's decimal coinage, which was to be introduced into circulation on 14th February 1966. The Royal Australian Mint holds a place in history as the first mint in Australia not to be a branch of the Royal Mint, London.
Since opening in 1965 the Mint has produced over eleven billion circulating coins and has the capacity to produce over two million coins per day, or over six hundred million coins per year.
The Royal Australian Mint has struck coins for a number of South Pacific nations. Export coins were first struck in 1969 for New Zealand and, since then, coins have been produced for Papua New Guinea, Tonga, Western Samoa, Cook Islands, Fiji, Malaysia, Thailand, Nepal, Bangladesh, Israel and Tokelau.