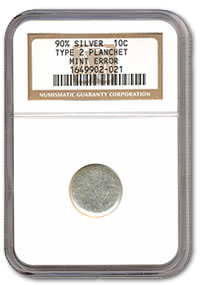 This month the Numismatic Guaranty Corporation (NGC) expanded its Star Designation for US coins graded up to MS 69 and PF 69. Prior to January 1, 2008, the designation was set within MS 63/PF 63 and MS 69/PF 69. According to NGC,
The Star Designation is NGC's unique identifier of coins with exceptional eye appeal or characteristics that distinguish them from other coins of the same technical grade. This does not mean that they just miss the next grade, but it can mean that they verge on the next designation.
NGC indicates all coins submitted to them will receive free review for the Star Designations. Coins already certified by NGC can be resubmitted under their Designation Review service for $10 each.
About NGC
NGC was founded in 1987 and offers independent, 3rd party grading of coins. In the grading process, three numismatic experts evaluate submitted coins and the final coin grade is assigned by a grading finalizer. The coin is then sonically sealed in a tamper resistant and protective, inert plastic holder and returned to the submitter.