U.S. and world banknotes exhibiting exceptional eye appeal will begin to receive a Star (★) designation, Paper Money Guaranty (PMG) announced Monday, June 9, 2014.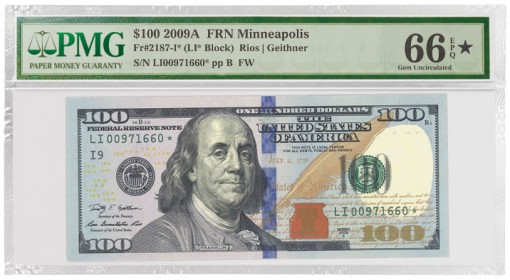 PMG, a third-party paper money grading and encapsulation service, will start using the designation at the Memphis International Paper Money show held June 12 to 15.
"There has been growing demand among collectors and dealers for PMG to impartially evaluate eye appeal and designate notes that are superior in that regard," says Bruce Thornton, PMG Finalizer. "After careful study, we have established criteria that we believe will make the PMG Star Designation the industry standard for exceptional eye appeal."
PGM said banknotes will receive the special label if they show:
strong plate and/or overprint embossing,
vibrant ink color, and
pristine paper quality exceeding the well-established standards used to determine the Exceptional Paper Quality (EPQ) Designation
Money collectors can resubmit notes already graded to see if they qualify for the new designation. The review fee is:
$15 for notes valued under $3,000,
$30 for notes valued $3,000 to $10,000, and
the regular grading fee for notes valued above $10,000
To submit PMG-certified notes for reconsideration for the Star Designation, write "Designation Review" at the top of the PMG Submission Form.
The Star (★) Designation was introduced in 2000 by Numismatic Guaranty Corporation, an affiliate of PMG, to recognize superior eye appeal on coins.