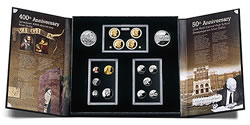 New United States Mint products have emerged for sale following the announcement of the Mint's holiday and gift catalog.
The 2007 American Legacy Collection is the standout. Legacy sets are now in their third year of production and this year's collection is sharp to the eye.
The collection includes available U.S. Mint coins and sets that are also sold separately, but not with the fine, all-together packaging. The downside is you'll pay extra for it and they won't be ready for shipping until 12/03/2007.
The American Legacy Collection price is $135.
There's a strict limit of 50,000 in total sets and a further limit of 10 sets per household. (After 30 days, the 10-set limit may be removed if all sets are not yet sold.)
Now, take a look at the coins and their prices, if purchased individually:
Doing the math and as long as you purchased the coins at the same time to prevent extra shipping charges, it's less expensive to by the coins individually versus buying them in the American Legacy Collection. The attractive packaging will add an extra $30.05.
Many could find that difficult to swallow. After all, it's not like the packaging surrounding the other coins is sub-standard.
And for $30, you can buy another coin or two!
*(Editors Note: Originally, if you read this article when it was first released, CoinNews had listed the Little Rock Uncirculated coin instead of the Proof version, which is included in the American Legacy Collection. That has been corrected and now, comparing apples to apples, the price difference is $30.05 instead of the $34.05 previously stated. Thanks go to John Adams, a CoinNews reader, for pointing this out!)