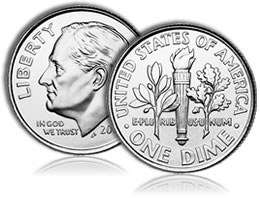 Looking back to last year, 2009 was filled with a roller-coaster of events relating to the coin collecting world. Among the many highlights, new coin releases such as the Abraham Lincoln Commemorative Silver Dollar and the four redesigned 2009 Lincoln Cents are sure to be recalled by anyone even slightly familiar with the hobby.
The sharp US Mint June coin production increases may further jog the memory, reminding collectors of the historically low mintage levels in 2009. For the entire year, just 3,548,000,000 circulating coins were produced.
In comparison, 2008 had a production total of more than 10.1 billion and 2007 came in even higher over 14.4 billion. In fact, the last time the US Mint had circulating strikes at such a low level was forty-plus years ago.
Read the rest of this article »
{ 6 comments }