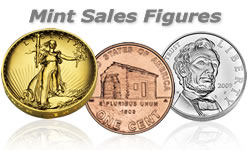 Fewer numismatic products are shouting out with noteworthy gains in the latest US Mint weekly sales report, but bullion coins are screaming along with the record highs in gold and silver prices.
More visible on collector's radar were the debut of Zachary Taylor Presidential $1 rolls, clad US Mint Uncirculated Sets and US Mint Proof Sets, which are on a three week rise.
In fact, with the exception of the Lincoln and Silver Proof Set, all sets performed at least slightly better when compared to last week's report.
US bullion coins burned the brightest, as the following highlights describe:
2009 Buffalo Gold Bullion Coins hit 171,500 for the year, just 500 shy from matching all of those sold in 2008 — and the 2009s were released only on Oct. 15. The US Mint sold 26,000 during the last seven days alone, bringing the November total to 55,000.

2009 American Eagle Gold Coins jumped up 49,500 in the same time frame for a November tally of 124,000. The month already ranks as the third best of the year.

2009 American Silver Eagles are 7,000 away from reaching 26 million this year. Numbers soared 986,500 in the last seven days, reaching 2,586,500 for the month. November is ranking as the fourth best in 2009 with several days left to place orders.
Read the rest of this numismatic news article »
{ 5 comments }