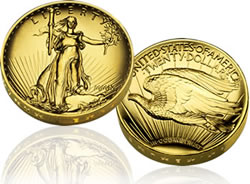 One of the most sought after coins released by the United States Mint last year was the 2009 Ultra High Relief $20 Double Eagle Gold Coin.
These Ultra High Relief (UHR) strikes were so desired that an amazing 28,173 flew off US Mint's shelves in the very first day of availability (January 22, 2009). And that was with a one per household order limit in place. They sold for $1,189. That accounted for a premium of almost $330 over the then current spot price of the one ounce of gold they contained. But that would prove to be a bargain when gold continued to climb the rest of the year.
By the 31st of December, the last day in which the Mint was accepting orders for the UHRs, their $1,489 purchase price was the highest it had been all year — exactly three hundred dollars over where they started. Final sales figures show a total of 115,178 were sold. Now, the only place to purchase the gold pieces is from the secondary market. Not surprisingly, prices have not gone down. Graded examples are higher than ever.
Read the rest of this numismatic news article »
{ 2 comments }