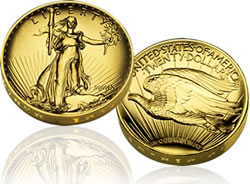 The price of gold has been on a five-day price slide, but ironically the timing of the decline was slightly off in helping collectors pay less for US Mint gold collector coins.
The US Mint uses a London Fix weekly gold average to determine whether to keep gold coin prices the same, or adjust them up or down. The average came in 28.8 cents higher than the threshold needed to cause a reduction of UHR Gold Double Eagles by $50, First Spouse Gold Coins by $25, and 2009 Gold Buffalo Proof Coins by $50.
The Buffalos go on sale Thursday at noon ET. Since the London Fix five day average is $1,050.278, the coins will launch with a price tag of $1,360.00. Had the average been at or below $1,049.99, the coin would have been released at $1,310.00.
Now collectors must decide whether to delay their proof Buffalo order until a potential price cut next week. In a typical year, the decision to wait and possibly save a quick $50 would be an easy call. However, this year demand is expected to be heavy, and there is absolutely no indication as to how many the Mint has on hand to sell. Given recent history and the current circumstances, there is at least some risk in delaying.
The following are the figures the US Mint used to arrive at the $1,050.278 gold average:
London Fix Gold Prices

AM
PM
10/28/2009 – Wednesday
1035.50
–
10/27/2009 – Tuesday
1040.75
1036.50
10/26/2009 – Monday
1055.00
1054.00
10/23/2009 – Friday
1061.25
1061.75
10/22/2009 – Thursday
1054.75
1053.00
The London gold-fixing is a benchmark for gold traded directly between big institutions.